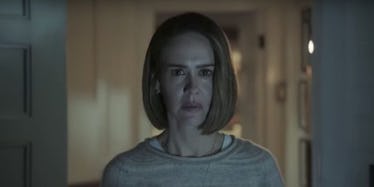 Everything We Know About Sarah Paulson's 'American Horror Story: Cult' Character
FX
Sept. 5 is less than a week away, and we're getting closer to the mysterious next installment of AHS every day. At this point, we have a full trailer and creep-tastic teasers to get us through this waiting game, but we still have questions. At the center of this season lies regular Ryan Murphy player Sarah Paulson, and we're in deep trying to figure out just what we need to know about her character. Just who is Ally Mayfair-Richards on American Horror Story: Cult? Man, there's so much to keep track of. And so much we have yet to learn.
Sarah Paulson has played nine characters in the AHS universe and Ally is shaping up to be quite the person of interest. What we are aware of for sure is that she's a Michigan woman who has an extremely negative reaction to the 2016 election of Donald Trump. In the trailer we see her telling her therapist, "Since election night it's just all been getting so much worse." She's referring to her phobias, and boy does it look like she has more than enough reasons to be fearful... because terrifying clowns are all over this trailer. Even Twisty makes an appearance, in the form of a comic book and a spine-chilling figurine.
Ally isn't completely alone in this world, but that doesn't mean her spouse will have an easy time dealing with what this election aftermath has wrought. Alison Pill plays her wife Ivy, who appears to be some sort of butcher. They have a son together. Why, what a big knife you have, Ivy. What's that for?
But is Ivy Ally's only love interest? Another AHS staple, Evan Peters, is set to play a Trump-supporting cult leader named Kai Anderson. To make matters more confusing, he'll somehow be portraying multiple historical cult leaders like Charles Manson and Jim Jones, in addition to that role. Time will tell how those characters will factor into the central story. Are they in Kai's imagination or subconscious? Anything goes.
Kai and Ally will be linked in a major way, and it could be romantic. Ryan Murphy posted that they would share a "love story for the ages," leading us to suspect that love (or hate, murder, hysteria, delusion, any number of things) is in the air for the pair.
Ally's relationship with other more minor characters is still somewhat up in the air. Billy Eichner is supposedly a "beekeeper" neighbor. Billie Lourd looks like she'll be infiltrating Ally's family in the form of a babysitter who is likely a follower/minion/accomplice of Evan Peters' Kai.
Clowns, cults, and bees. Oh, my. So many horrifying possibilities.
Sarah Paulson never disappoints when it comes to her American Horror Story roles. We can't wait to see what she brings to the table as Ally because this whole season is feeling pretty darn freaky already.