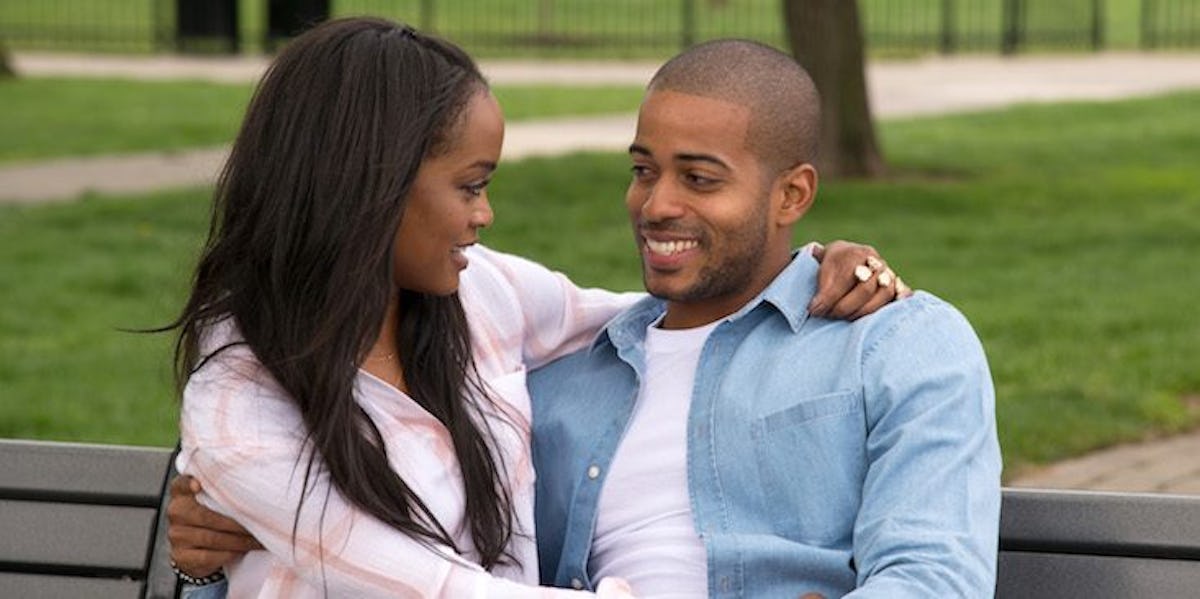 Eric Reveals His Most Memorable 'Bachelorette' Moment & It's So, So Sweet – EXCLUSIVE
ABC/Randy Sager
While Rachel Lindsay's season of The Bachelorette wrapped up about a month ago, fans are still hungry for details from the dramatic season. Rachel's pack of eligible bachelors were some of the most memorable in Bachelorette history, and their most intimate moments with the Bachelorette continue to resonate with fans. Elite Daily had the chance to speak with Rachel's second-runner up Eric Bigger about his favorite show moment, his Bachelor predictions, and his thoughts on the final rose ceremony.
Eric Bigger was a refreshingly open and emotional contestant on the show. He revealed to Rachel, and the world, that he had never truly been in love before -- an endearing moment that instantly won the hearts of thousands of mothers across the nation. Unsurprisingly, your mom's favorite Bachelorette contestant has an equally heartwarming favorite moment from the season.
When asked about that moment, Eric told Elite Daily:
When I was in Spain, it was like 2 in the morning and it was deserted, like in an alley, and I was about to see Rachel -- and it was right before I told her I love her -- and it was just surreal like, damn, how did I get here.
*swoons*
Eric revealed earlier this week that he has not been approached to be the next Bachelor (yet), but he did tell us who he'd like to see go on a quest to find love if he can't do it himself.
Eric revealed,
Adam, AG, I think Adam would be a great candidate for that just because [of]  his personality, his drive; he's very successful, he can fly planes, he's a great guy. 
Bachelor Nation is currently watching Adam on Bachelor In Paradise, and he just gave his rose to Raven. It seems like fans have fallen for Adam's likable personality and that surely makes him a solid contender for Bachelor... just as long as he keeps Adam Jr. at home.
Eric Bigger also opened up about his feelings on Bryan winning the final rose. He told Elite Daily,
I saw it coming, I was with Bryan the whole way. I think Bryan was a frontrunner from Day 1 I wasn't shocked that he won… When I left the show in Spain, I knew Bryan was the guy for sure. 
Bachelor Nation had a feeling of the outcome as well; Rachel did give Bryan the first impression rose, after all.
Hopefully, news of the next Bachelor breaks soon, but until then, keep begging ABC for your favorite via Twitter.