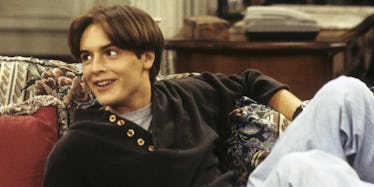 Here's What Eric Matthews From 'Boy Meets World' Looks Like Now
ABC
When I was 13, Eric Matthews was my boy crush.
OK, I honestly have no clue how old I was when "Boy Meets World" first appeared on Disney Channel, but I do remember one thing: Eric's flowing chestnut locks.
Yeah, the man (Boy??? How old was he?!) was super sexy. He sparked my sexual awakening for sure. God DAYUMMM.
Shut up, this isn't weird.
Well, you guys, the actor who played Eric Matthews is all grown up. I hope you're ready for the nostaglia to hit because it's KILLING ME RIGHT NOW.
There he is, the one and only. Will Friedle snapped a quick pic with his wife on his wedding day. YEAH, THE DUDE IS MARRIED.
OMG, MR. AND MRS. SQUIRRELS!!!!
Feel old yet? It feels like yesterday Eric was fighting with Cory and obsessing over girls. But now, he's a married man!
His fans and followers flooded the photos with sweet messages wishing them the best. THIS IS SO CUTE!!!
If Danielle Fishel and Ben Savage attended the wedding, I'll honestly lose my shit. A "Boy Meets World" reunion? Please tell me it happened.
He hashtagged it "BoyMeetsWife" so that's enough to make me happy. I am dead. This is too much.
The whole gang did get back together recently in an episode of "Girl Meets World." I'm feeling all the feels right now.
And Will even wished Ben a happy birthday a couple weeks ago. ARE YOU CRYING CAUSE I'M CRYING?!?!
While we're here and going down memory lane, check out some of Eric Matthews funniest "Boy Meets World" moments.
Remember when he lit the entire bedroom on fire? Good times. Oh, and shout out to whoever made this video on YouTube. You the real MVP.
Will, thanks for the laughs and memories. You'll forever be Eric Matthews in my heart.
Citations: Eric Matthews from "Boy Meets World" (ET Online)