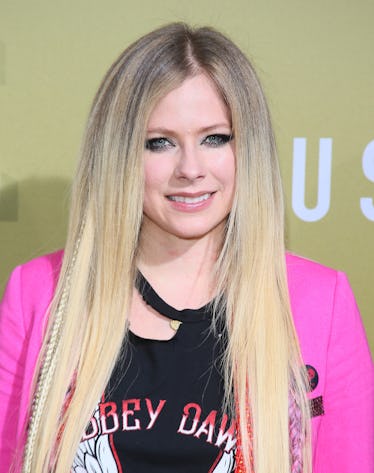 30 Emo Pop Song Lyrics That'll Make Your Followers Shed A Tear
My inner emo kid is living.
Jean Baptiste Lacroix/WireImage/Getty Images
Now that fall and winter are basically around the corner, expect Instagram feeds to go from beach pictures and spicy margaritas to wool hats and legs crossed in front of warm fireplaces. Is it horrible of me to be happy about that? It's nice to get a glimpse of refreshing new pictures now and then, but what usually makes posts most memorable is the IG captions that leave you shaking your head in awe, wishing you thought of writing them first. Now, with the seasons changing, it only seems fit to throw in some emo song lyrics to really leave an impression. If you want your followers to shed a tear or two, try these emo-pop song lyrics for Instagram captions, featuring some of today's biggest artists along with some iconic throwbacks you'll find yourself suddenly playing on repeat.
Whether you're the one sharing a cute selfie with your partner or snapping a shot of some seriously beautiful scenery, these emo lyrics are guaranteed to bring your post up a notch. All about falling down and getting back up again, heartbreak, heartache, and of course, love, these lyrics will have you — and your followers — catching the feels.
"Are you aware of what you make me feel, baby? / Right now I feel invisible to you, like I'm not real." — Avril Lavinge's "Losing Grip"
"I wanna scream I love you from the top of my lungs / But I'm afraid someone else will hear me." — Fall Out Boy's, "The (Shipped) Gold Standard"
"She looked dead into my eyes and she saw nothing inside." — Machine Gun Kelly's, "Nothing Inside"
"Maybe I know somewhere deep in my soul / That love never lasts." — Paramore's, "The Only Exception"
"I became such a strange shape / Such as strange shape from trying to fit in." — Fall Out Boy's, "Wilson"
"What will it take to show you that it's not the life it seems? / I've told you time and time again you sing the words but don't know what it means." — My Chemical Romance's, "I'm Not Okay (I Promise)"
"I still hear your voice, tryna rip my world to pieces / But I'm not your toy, you can break and leave there bleeding" — Nessa Barrett's, "I Hope You're Miserable Until You're Dead"
"I was left to cry there / Waiting outside there / Grinning with a lost stare." — Avril Lavinge's, "Losing Grip"
"Don't leave me hanging / In a city so dead / Held up so high / On such a breakable thread." — Avril Lavinge, "My Happy Ending"
"In the dead of the night I have these dreams / What'll happen to me? / Will I burn out? / Have I been wrong? / What does it mean?" — Kid Cudi's, "Sad People"
"Every night I saw it skeletons in my closet / Still got all these problems, I thought money would solve them." — Kid Lorai's, "I Wish"
"Need a place to hide, but I can't find one here." — Billie Eilish's, "lovely"
"And we'll love again, we'll laugh again / We'll cry again and we'll dance again / And its better off this way / So much better off this way." — My Chemical Romance's, "I Never Told You What I Do For A Living"
"When you cried I'd wipe away all of your tears / When you scream I'd fight away all of your fears / I held your hand through all of these years / And you still have all of me." — Evanescence's, "My Immortal"
"Baby, I don't feel so good, six words you never understood." — Billie Eilish's "wish you were gay"
"I hope you never fall in love again / I hope you be yourself and lose your friends/I hope they cut you off for shit you said." — Nessa Barrett's, "I Hope You're Miserable Until You're Dead"
"I'm still young, wasting my youth, I'll grow up next summer." — Machine Gun Kelly's "Drunk Face"
"Time can never break your heart but it'll take the pain away." — Panic! at the Disco's, "Golden Days"
"You said that you love me but it's all lies / Should've known from when I looked in your eyes / I could erase you from my mind and I'd be alright." — Kid Lorai's "Erase U"
"I know you don't care, but can you listen?" — Billie Eilish's, "8"
"But I can't find the words to tell you / I don't want to be alone / But now I feel like I don't know you." — Paramore's, "Never Let This Go"
"I'm two quarters and a heart down, and I don't want to forget how your voice sounds." — Fall Out Boy's "Dance Dance"
"But I could never live the way they want / I'm going to get by and just do my time." — Good Charlotte's, The Anthem
"Told you not to worry but maybe that's a lie." — Billie Eilish's, "ilomilo"
"Come on, make it easy, say I never mattered." — Fall Out Boy's "Young Volcanoes"
"So what I'm broken / Knew this love was poison / All these wounds are open." — Jaden Hossler's, "So What!"
"Our eyes locked, you can see the sadness / My heart stops, every time you call my name." — Juice WRLD's, "Starstruck"
"I need some water / Somethin' came over me / Way too hot to simmer down / Might as well overheat." — Kendrick Lamar's, "LUST."
"I'm not okay, I feel so scattered, don't say I'm all that matters." — Billie Eilish's "listen before i go"
"You're as sick as all the secrets you keep / But the truth is I don't wanna be me." — Jaden Hossler's, "Pray"