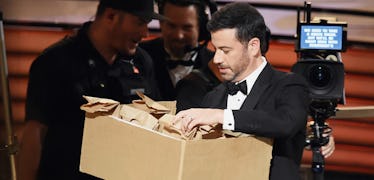 This Year's Emmy Host Is Sure To Steal The Show And We Can't Wait
Kevin Winter/Getty Images
Well, it's that time of year again, folks! Emmy Award nominations are almost out and we can finally start gearing up and placing our bets for the big night.
As usual, there is a ton to be excited about leading up to this year's show. All of our favorites will be in one room together, looking gorgeous, giving each other golden statuettes, and making plenty of reaction faces that will definitely be made into memes.
Perhaps nothing is more exciting this time around, though, than the news that this year's host will be none other than the hilarious Stephen Colbert.
We've had some pretty amazing hosts in the past few years, but Colbert is a comedy genius, and it takes a true professional to keep an entire audience entertained during an award show that can drag on for more than two and a half hours.
We all know the host has the most important role of the night; they're pretty much the star of the show. They open the ceremony, we see them more than anyone else throughout the night, and it's their job to roll with the unexpected punches all night long and come up with jokes on the spot. Basically, the host can either make or break the entire show.
That being said, I'm 100 percent positive The Late Show host has the chops to be one of the funniest and most energetic hosts we've seen in a while.
Though this is his first time hosting an awards show like this, Colbert is no stranger to the Emmy Awards' stage. The comedian has nine (holy sh*t) Primetime Emmy Awards for his work on The Daily Show and The Colbert Report, which proves he knows how to keep people entertained.
I'm also sure Colbert will be able to get some advice from his friend and last year's Emmys host, Jimmy Kimmel, if he needs it (though I doubt he will).
One way or another, between his quick, hilarious one-liners and his genuinely entertaining personality, our host this year will likely steal the show.