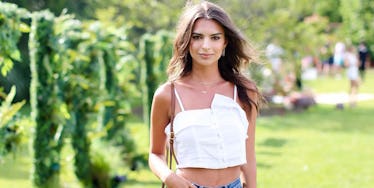 Emily Ratajkowski Posed Completely Naked On A Horse For New Magazine Cover
REX/Shutterstock
Happy Thursday from Emily Ratajkowski!
The 25-year-old model just blessed the world with a glorious nude photo shoot of her on top of a horse. LOL. Thanks, Emily. I guess I should stop eating this bag of Doritos.
Horseback riding in the nude isn't a typical weekday activity for Emily (...I don't think?). The star took the pics for the cover of Harper's Bazaar.
Emily was able to sit down with feminist author Naomi Wolf to discuss everything from sexuality to that time she took a topless selfie with Kim Kardashian.
Oh, you don't remember that? Here, let me remind you.
Emily Ratajkowski took a topless selfie with Kim Kardashian after the reality star was slut-shamed and criticized with sexist comments.
In the interview with Harper's Bazaar, Emily recounted times she was body-shamed when she was younger. The conversation went on to Emily discussing what it means to define her own sexuality and be proud of her own body... which is what lead her to Kim Kardashian.
The model explained she saw Kim's selfie and was upset by the backlash. She gave an interesting perspective on the situation by sharing the reason why selfies can be so powerful. She said,
A selfie is a sort of interesting way to reclaim the gaze, right? You're looking at yourself and taking a photo while looking at everyone. But also who cares? Kim's allowed to do what she wants. So I issued a series of tweets; she sent me flowers, thanking me, which was very sweet. We ended up running into each other and had this idea to take a similar selfie with our middle fingers up.
Preach it, girl.
Emily Ratajkowski elaborated on why she believes it's important to take ownership of your own body. She shared,
Kim said that to me. You know, when Lena Dunham takes her clothes off, she gets flack, but it's also considered brave; when Justin Bieber takes his shirt off, he's a grown-up. But when a woman who is sexual takes off her top, it plays into something.
She later added,
Sex is normal. Desire is normal. Attention is normal, and that's okay. That's really what slut shaming is, right? You talk about this in your book, 'Promiscuities.' A woman talks about having sex, and it's like, well, a guy got to have sex with you, so you're stupid. You've given something up.
SO TAKE THIS, HATERS. Here's Emily riding around on a horse basically naked. WOAH, BABY.
The caption reads,
Tough day at work channeling Lady Godiva in all her nude glory for @harpersbazaarus  link in bio to my conversation with Naomi Wolf.
Here's another beautiful shot.  Show off those curves, girlfriend. You look hot.
For this photo she writes,
Me as Lady Godiva for@harpersbazaarus Naomi Wolf is someone I grew up admiring. Her ideas in The Beauty Myth and Promiscuities helped me to develop the opinions I carry today. Check out our conversation on feminism, selfies and sexuality. Link in bio.
Emily, thanks for reminding us what it truly means to be beautiful: confident in your own skin.