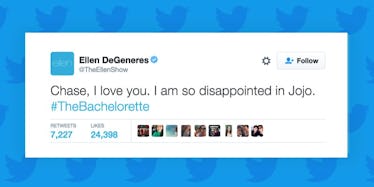 Ellen DeGeneres And Other Celebs Pick Who Should Win 'The Bachelorette'
Twitter
If you needed a friendly reminder that stars are, in fact, just like us -- this should do the trick.
It turns out a handful of celebrities are diehard fans of "The Bachelorette" on ABC. That's right, you're not alone. Celebrity fans of the reality TV series include Spencer Pratt, Ellen DeGeneres and Amanda Seyfried.
Thanks to social media, we get to see these celebs obsess over the show while they snack on kale salads and sip organic raw kombucha.
Is there any other way to properly anticipate JoJo Fletcher's gut-wrenching decision as she chooses between Jordan Rodgers and Robby Hayes?
Only superstar quarterback Aaron Rodgers, AKA Jordan's big bro, refuses to confess his love for the show. Other celebrities aren't holding back when it comes to their predictions on who will win Fletcher's heart.
Let's start with Ellen DeGeneres. The talk show host seems to be stuck on Chase and a bit disappointed that JoJo let him go.
Novelist Jennifer Weiner can't decide between Robby OR Jordan.
After all, she does have a point...
Sean Lowe, who appeared on the seventeenth season of "The Bachelor," thinks Jordan might come out on top tonight.
As for Chad Johnson, he doesn't seem to be over his loss yet!
Former Bachelorette Kaitlyn Bristowe just wants JoJo to keep the peace and marry the remaining contestants.
"Mean Girls" and "All My Children" actress Amanda Seyfried took to Twitter to show us how she celebrates "The Bachelorette."
She also wants nothing to do with Robbie or Jordan (or their hair).
Lastly, "The Hills" star Spencer Pratt just wishes his Snapchats of "The Bachelorette" would work.
We'll just have to wait and see what JoJo's gut tells her!
Citations: Bachelorette-Obsessed Celebs Reveal Who They Hope Wins JoJo Fletcher's Heart (People)