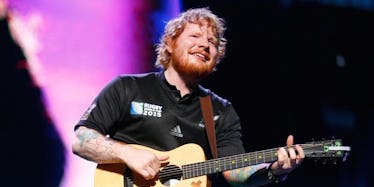 Ed Sheeran's Gaelic Version Of 'Thinking Out Loud' May Rival The Original (Video)
Getty Images
Ed Sheeran recorded an Irish cover of "Thinking Out Loud," and everyone has officially been romanced into a coma.
At this point, Sheeran could honestly sing the song in a series of toots and whistles and the universe would involuntarily get down on one knee and propose to the people next to them.
Gaelic, as it turns out, is a gorgeous ancient language, which is a major plus.
Ed Sheeran sings Thinking Out Loud in IrishSheeran Genius!Listen to Ed Sheeran singing Thinking Out Loud in Irish as premiered by Eoghan McDermott on RTÉ 2fm! More: http://bit.ly/1O6WhKY Posted by RTÉ Ten on Tuesday, December 22, 2015
Singing it, Sheeran sounds like a warrior returning home from battle with two burlap sacks: one filled with the severed heads of his enemies and the other filled with taters for dinner.
The songwriter resurrected an all-but-dead vernacular and, most importantly, allowed Brendan to finally stick it to Connor.
#TRADITION #CULTURE #SUCKITCONNOR