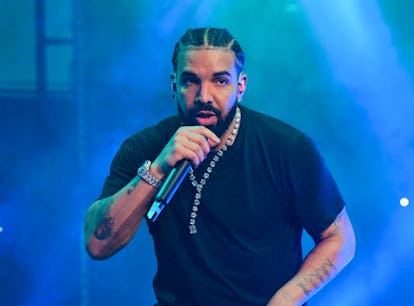 Want Tickets To Drake's 'It's All A Blur Tour'? Here's How The Cash App Card Can Hook You Up
These tickets are going to sell out fast.
Prince Williams/WireImage/Getty Images
We may receive a portion of sales if you purchase a product through a link in this article.
There's nothing worse than learning your favorite artist is finally going on tour and then missing out on tickets in the online rush for seats. The trick is to work smarter, not harder — Cash App's free Cash App Card is how you can see Drake on his 2023 It's All A Blur Tour with 21 Savage. Starting March 15 at 12:00 p.m. ET, Cash App Card holders can buy concert tickets via exclusive pre-sale access; you can sign up for a card now through March 17 to unlock that pre-sale. That means you can secure your Drake tickets two days before they even go on regular sale. Yeah, you're gonna want to sign up for that Cash App Card now.
The Cash App Card Is Your Ticket To See Drake — Here's What You Need To Know
About The Cash App Card
Download Cash App and you can sign up for the Cash App Card, a free debit card connected to your Cash App balance. You can start banking immediately from your smartphone, and there are no annoying overdrafts or monthly fees. Just load your card with your Cash App balance or transfer money via direct deposit. Remember: Sign up now, and you can get exclusive pre-sale access starting March 15 through March 16 (or whenever tickets sell out).
How To Get Pre-Sale Ticket Access
For Cash Ap Card holders, here's how to get early access to Drake's much-anticipated It's All A Blur Tour before they go on regular sale on March 17:
Enter the first nine digits of your Cash App Card in the passcode box of this Drake tour's Live Nation event page. When you check out, remember to use your Cash App Card to be eligible for the pre-sale.
If you don't have a Cash App Card yet, order one before March 17th via the Cash App link. Just tap the Cash App Card tab on the app's home screen, press "Get Cash App Card", and follow the steps from there. (Also, just to note: You must be 18 or older to apply for a card, but if you're 13+, you can apply with a parent or guardian's permission.)
Once you've ordered a Cash App Card, you can use the info on your phone instead of waiting for a physical card to arrive in your mailbox so you can score tickets right away.
What Else Can You Do With A Cash App Card?
Okay, this is kinda fun. Once your physical card does show up, you can customize it by drawing on it or even making it glow in the dark. Maintain your card balance via Cash App, direct deposit, or even by depositing physical cash at a retailer like 7-Eleven; you can also use Cash App Card to invest right from your phone.
The Cash App Card also offers Cash Boost Discounts when shopping at your favorite places — restaurants, coffee shops, and more. Plus, if you turn on Round Ups, every transaction will be rounded up to the nearest dollar and added to your savings balance, and you can also set it to invest in stock, bitcoin, or ETF.
This article was originally published on