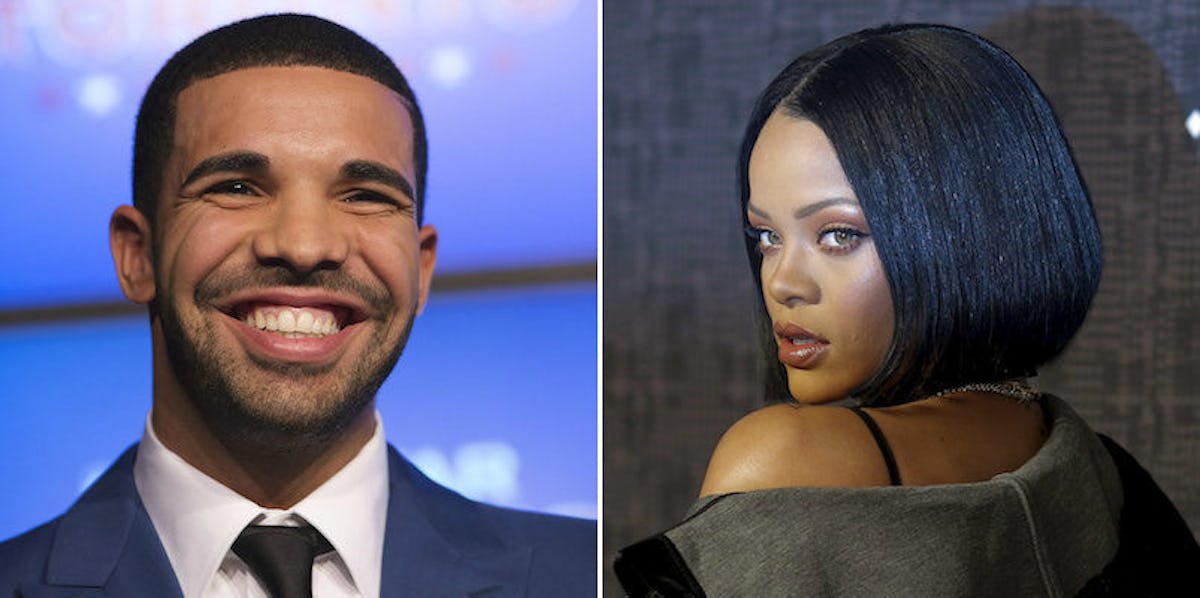 Drake Just Basically Told The Whole World How He Feels About Rihanna
REUTERS/Mark Blinch/Eduardo Munoz
In news surprising no one, Drake continues to basically worship the ground Rihanna walks on.
Even though they're technically not together, the ex-couple has been teasing the world recently, ever since Drake was featured on RiRi's hit "Work." Then, they released a sexy AF music video for the song, with Rih grinding on Drake and Drake looking at Rih like she was the only woman in the universe.
Now, Drake's not even trying to hide how enamored he is with his girl. I mean, just listen to how he introduced her at her ANTI tour concert in Toronto on Thursday.
Drake said to the crowd,
One more time, if you would do me the favor and make some noise for the greatest woman I've ever known in my life.
You hear that? The greatest woman he's ever known in his WHOLE LIFE!
Now, that's how you worship a woman, ladies and gentleman. Dude has it bad.
Seriously, get you a man who looks at you the way Drake looks at Rihanna. Look at the pure devotion in his eyes.
Ahhh ONE more cause HOW ARE WE LIVING THROUGH THIS WE #CANTEVEN RIGHT NOW #Drake #Rihanna #ANTIWorldTour pic.twitter.com/S3nkd33Hk1 — UniversalMusicCanada (@universalmusicC) April 15, 2016
OK, so we all know Drake would do literally anything Rihanna asked him to, so now, we just need to know how Rih is going to use this power she has.
I'm not trying to tell Rih how to live her life -- except that I am. JUST GET BACK TOGETHER ALREADY!
Citations: Drake Publicly Declares His Love for Rihanna (Elle)