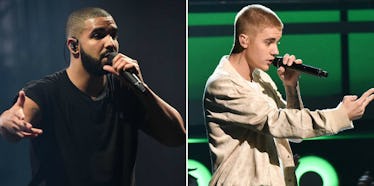 Drake And Justin Bieber's New Remix Of 'One Dance' Is Seriously Lit
REX/Shutterstock
It was inevitable Drake and Justin Bieber would collaborate someday.
That day finally came this weekend when Drake dropped three new tracks during Saturday's OVO Sound Radio show, including a remix of "One Dance" featuring the Biebs himself.
But here's the part that might surprise some people: The remix is bangin'. The original version of the Views track was already pretty tight, but with the added Biebs vocals, it's now guaranteed we will be hearing this on the radio all summer.
It's a little surprising Drake and Biebs are working together, considering Drake is kind of, sort of, maybe dating Justin's ex.
But if you think about it, J Biebs and Aubrey Graham aren't so different. They're both sensitive men just lookin' for the right lady to love. And that lady just happens to be Hailey Baldwin.
Drake also released a brand new solo song called "4PM In Calabasas" and a collaboration with rapper Gucci Mane called "Back on Road." Both are sufficiently lit.
Well, Aubrey, you've done it again. I'll have these on repeat for the rest of the day. Drake never disappoints!
Citations: Drake and Justin Bieber Just Released a Crazy Catchy Remix of "One Dance" (Cosmopolitan)