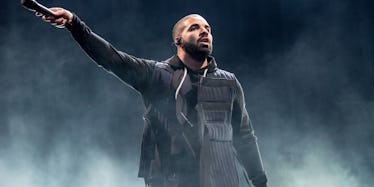 Drake Posted An Extremely Moving Letter About The Alton Sterling Shooting
REX/Shutterstock
Like many black celebrities, Drake publicly appealed to his large social media following after the shooting of Alton Sterling, and it's easy to see why.
The first video of Sterling's death, which happened in front of a convenience store in Baton Rouge, was disturbing and horrifying in itself. But a second video, which showed an even closer angle of cops shooting Sterling while they had him pinned on the ground and began circulating late Wednesday afternoon, was beyond words.
The fact that it happened was enough to shake up anyone. The nature in which it happened could easily prompt any black person to be filled with despair and concern for his or her family, much like Drake expressed here.
And there's no doubting the most poignant part of his letter, either.
He wrote,
It's impossible to ignore that the relationship between black and brown communities and law enforcement remains as strained as it was decades ago.
That feeling of there being a lack of progress was echoed by other famous figures, too -- many citing the words of civil rights leaders of yesteryear that, sadly, still resonate today.
And if this year's most vocal celebrities are any indication, Drake won't be the last to speak up like this.