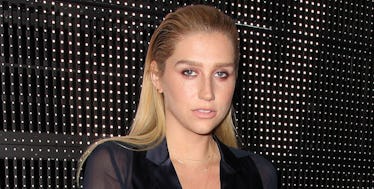 Dr. Luke Apparently Won't Let Kesha Perform At The Billboard Music Awards
REX
Roughly a week ago, it was announced Kesha would be performing at the Billboard Music Awards on May 22.
The 29-year-old singer has had an ongoing legal battle with Sony producer Dr. Luke since she accused him of sexually assaulting her, so this performance would be huge for her career.
At the beginning of March, it was reported Sony cut ties with Dr. Luke, meaning Kesha would no longer be forced to work with her alleged abuser.
There was, of course, celebration, however it looks like her fight is far from over.
In a statement, Dick Clark Productions, the company producing the BBMAs, reportedly said,
Kesha accepted an invitation to perform on the show and she received written approval from Dr. Luke's record label, Kemosabe Records.
The statement continued,
Kemosabe subsequently rescinded its approval following a media report on Wednesday May 11 regarding Kesha's appearance on the BBMAs. Unfortunately, Kesha and Kemosabe have since been unable to come to an agreement for Kesha to perform on the show.
According to sources, the "media report" is believed to be an article published by TMZ about Kesha looking to make a statement at the BBMAs about the sexual abuse allegations.
Kesha recently posted an Instagram clarifying her performance would be a tribute to Bob Dylan.
The caption reads,
I was very excited to perform a tribute to Bob Dylan by singing a cover of 'It ain't me, babe' at the Billboard awards this year. I'm very sad and sorry to say I won't be allowed to do this. I just wanted to make very clear that this performance was about me honoring one of my favorite songwriters of all time and has never had anything at all to do with Dr. Luke. I was never going to use a picture of him, speak of him or allude to my legal situation in any way. I simply wanted to sing a song I love to honor an artist I have always looked up to. thank u all for the continued support.
Dick Clark Productions is hopeful an agreement can be reached before the awards show. The company said,
Dick Clark Productions has a long standing relationship with Kesha. We hope that the parties can come to an arrangement such that we can continue that long standing relationship with a performance by Kesha on the Billboard Music Awards stage on May 22nd.
Poll photo credit: REX/SHUTTERSTOCK
Citations: Dr. Luke Bans Kesha Performance BBMAs (Cosmopolitan)