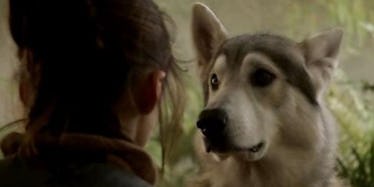 Direwolves Are Back In 'Game Of Thrones' Season 7, And They're "Beautiful"
HBO
There are two kinds of "fantastic beasts" Newt Scamander would travel to Westeros to find. The first is dragons, reborn into this world after centuries of extinction. The second, which has gotten the short shrift in the show, are the direwolves.
The production can't really be faulted because it came down to budget issues and they chose to throw their money at Drogon, Viserion, and Rhaegal rather than the Stark's enormous pet wolves. Dragons give more bang for the buck. They breathe fire, they fly, Bilbo fought one with Sherlock's voice in The Hobbit, etc.
What do direwolves do? Besides being really large and growly?
In the books, the direwolves play a larger role; there's a whole lot of warging of Starks into their wolves, including Jon Snow, Arya, and Rickon as well as Bran. (Much of the time it happens unbeknownst to the characters, who think they're just having weird dreams.) But with warging minimized on screen, the direwolves haven't had much to do other than get slaughtered in myriads of ways, from Lady in Season 1 to Summer and Shaggydog last year.
But according to the production, that's about to change. They promise that in Season 7, the direwolves will be back. Speaking at this weekend's Con of Thrones, designer Paula Fairfield told the audience there is a "beautiful wolf scene" coming this year.
What could she mean? There are only two wolves still alive: Ghost and Nymeria. With Arya Stark back in Westeros ground for the first time since Season 4, it's a good bet she's the one having a reunion of sorts. Especially since actress Maisie Williams was flown by the production to Canada this year.
That's where the trained wolf stand-ins are housed, and it's a lot cheaper to fly one actress to Canada than it is wolves to Ireland.
And then there's the scene with Arya in the woods from the first trailer.
Could this be a scene where Nymeria comes by to acknowledge the friend she once had? Will she have the "biggest wolf pack the Riverlands has seen in generations" by her side like she does in the books?
Will we finally see someone other than Bran warg in the Stark family?
We'll find out soon enough. Game of Thrones returns in ten days, on July 16, at 9 p.m. ET on HBO.