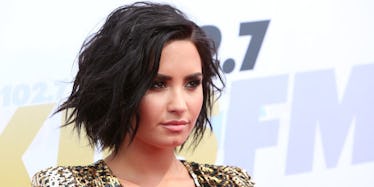 Demi Lovato Just Dropped A New Song And Some Naked Photos Along With It
REX/Shutterstock
Demi Lovato just dropped a fire new single completely out of the blue.
Demi wrote and recorded "Body Say" a couple of weeks ago and said she released it because, "What's the point in waiting anymore?"
Yes, Demi! I like your style.
People can't get enough of it, and it's easy to see why. There's nothing to not like about this tune. It made me feel like hitting the club with sass level nine.
The video features Demi rolling around in the sheets all tattooed and naked, so it's pretty NSFW. But, what isn't NSFW these days? All the best things in life are NSFW. Embrace it.
ON REPEAT ALL DAY ALL WEEK ALL LIFE#bodysay @ddlovato #futurenowtoursunrise pic.twitter.com/vuozWgRhNe — Massimo Porrino (@mporrinof) July 1, 2016
@ddlovato IT'S ON REPEAT ALL NIGHT!! MASTERPIECE!!!#BodySay — Brittanie McCormack (@wapogipo88) July 1, 2016
Where did she find the time to drop this piece of gold?! On Wednesday night, Demi was busy launching her Future Now Tour with Nick Jonas.
She dominated the stage on opening night in Atlantic City. They Snapchatted, Instagrammed and tweeted the hell out of it, and we're so glad they did -- it looked dope!