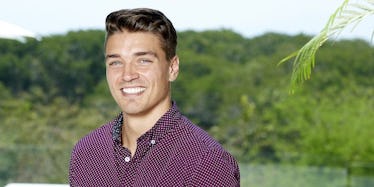 Dean Unglert Started a Podcast About How He Sucks at Dating, Because Of Course
ABC/ Bob D'Amico
When you become a household name on The Bachelorette and Bachelor In Paradise and you're no longer currently on TV, what do you do next? One logical route is podcasting, and now Dean Unglert is the latest Bach alum to get in on that action. But when it comes to his subject matter, he has a particular set of skills... or lack thereof. Yes, Dean Unglert's podcast is all about how he sucks at dating, hence the name, Help! I Suck at Dating. Hey, at least he's self-aware and doing something about it.
Dean became the notorious center of the latest season of Bachelor In Paradise when he got stuck in a love triangle with Kristina Schulman and Danielle Lombard, and let's just say he didn't handle it all that well... Dean was initially involved with Kristina, but she left Mexico abruptly when he decided to explore things with D-Lo. Dean's behavior landed him on the Mount Rushmore of reality TV f*ck boys and Bachelor Nation wasn't too pleased with his immature actions. So, what's a Deanie Baby to do post-Paradise? Make a podcast about how terrible he is in relationships, of course. And that's just what he's doing.
We can't blame the guy for trying to work through his shortcomings, and maybe he'll help a few lost dating soul throughout this public journey. "Seems like overnight I became the poster child for just being horrible at dating. And this is what it's come to. I currently am launching a podcast to work through this," he explains in the inaugural episode. Hmm. Makes sense.
The Help! I Suck at Dating podcast appears to be part Dean therapy session, part self-help for the audience. Dean will discuss his issues and also enlists the help of a dating expert so there's an actual professional in the mix. In the first episode, he even offered up a bit of a serious throwback when he interviewed his first kiss from the fifth grade. It's never too late to get insight from your past, we guess. And if it's for the betterment of dating mankind, we're all for it.
The real kicker of this whole podcast thing is that Dean chats with one of the most important and buzzed-about pieces of his relationship puzzle -- dun dun dun -- Kristina. In a teaser, he speaks with his former flame so he and listeners can understand the dating mistakes that were made on national TV, of all places. "Since you and I have dated each other … I'd love you tell me why I suck at dating," Dean asks Kristina. "The list is endless," she jokes. Nice.
Kristina explains that "communication" was Dean's big problem, but he has gotten better since the show. "I mean, you're better at communication now because I think you're a little more open to me and to everyone else," she says.
But will Kris think of Dean fondly as time goes on? When asked if she'll look back at Dean as a jerk or a nice guy in 20 years, she had this to say: "I think I will always think you're a nice guy because I think you do have a good heart and you are kind. Maybe not in dating… I think that also comes with age and maturing and still learning about what it is that you want." Wise words, indeed. Do you think Danielle L. will be his next guest? Eh, probably not.
Well, it's good to know Dean is on the self-improvement train. Apparently, we're all invited aboard and this should be an interesting adventure. Maybe Dean will carry his newfound enlightenment into his next relationship (or a fresh start with Kristina?) and take away something from his dating deficiencies? Perhaps we'll all learn a thing or two about ourselves along the way, too.