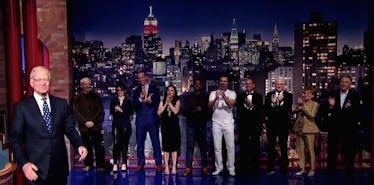 David Letterman's Final 'Late Show' Top 10 List Was Full Of Celebrities (Video)
Last night was David Letterman's last show after 33 years of hosting "The Late Show."
Of course, that means there was one final Top 10 list, and Dave got a whole group of famous people to read it.
The topic was "Things I've Always Wanted To Say To Dave."
Dave had celebrities like Jerry Seinfeld, Alec Baldwin, Jim Carrey, Peyton Manning and Bill Murray do the honors.
It was a touching tribute to the king of late night, and one hell of a way to go out. Give it a look up top. We'll miss you, Dave.
Citations: David Lettermans Last Top Ten List (BuzzFeed)