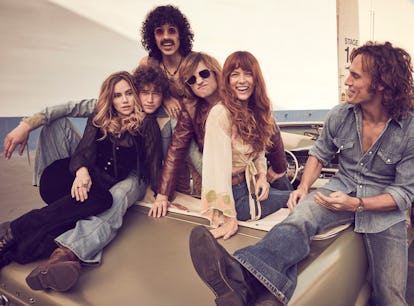 How Daisy Jones & The Six's Rock 'N' Roll Looks Came Together
Denise Wingate is the woman behind the '70s aesthetic.
Pamela Littky/Prime Video
In Prime Video's Daisy Jones & the Six, viewers are plunged headfirst into the sex, drugs, and rock 'n' roll of Los Angeles' 1970s music scene, when legends like Stevie Nicks, Linda Ronstadt, and David Crosby ruled. Based on Taylor Jenkins Reid's hit novel of the same name, the highly anticipated Amazon series chronicles the meteoric rise and fall of its titular fictional rock band, led with electric tension by lead singers Billy Dunne (Sam Claflin) and Daisy Jones (Riley Keough). And while the music and bandmate romances are worth the price of admission, the costumes in Daisy Jones & the Six tell a story in their own right.
For the show's costume designer, Denise Wingate, maintaining the authenticity of this iconic fashion era while staying true to the characters' own evolutions was key to tying Daisy Jones' rich world together. While the looks in the show manage to capture that specific moment in time, you might find yourself tempted to add some vintage-inspired pieces to your closet when all is said and done.
"I'm kind of bored with fashion today," Wingate tells Elite Daily. "I really like the hip-hugger, flared jean, halter top look. I tried to make the costumes authentic, but still have it look contemporary." As Daisy Jones & the Six hits our screens, Wingate reflects on how she brought the band's looks to life, and how fans can add a '70s aesthetic to their own wardrobes.
This interview has been edited and condensed for clarity.
Elite Daily: Daisy has this effortless cool-girl-meets-sex-symbol vibe. Who inspired her look?
DW: She's a little free-spirited, so she always kinda wears whatever she wants to wear, anyway. And she's kinda sexy, and a little bit wild. If you've never done this, you should Google "Linda Ronstadt early '70s." That was really my in for Daisy. I loved Linda Ronstadt's early days. She wore cutoffs, cowboy boots, halter tops, and she was just so cool. And she was a huge force in the music scene in the '70s, here in LA.
Then we kind of morphed a little bit, and I definitely, definitely was inspired by a lot of Stevie Nicks' looks. She was amazing, and she was wildly, wildly popular then. For her final outfit [at the Chicago show], we wanted to do something really great. She was wearing this gold Halston cape, which was really kind of the pièce de résistance to go out on, and it was just a nice bookend from when she first starts to where she ends.
ED: Taylor Jenkins Reid has spoken in interviews about how Fleetwood Mac's 1997 The Dance reunion concert inspired the original Daisy Jones novel. What were some of the notable real-life '70s bands and performers that you took inspiration from for the other characters?
DW: For [Suki Waterhouse's keyboardist] Karen, we used Patti Smith, Suzi Quatro, Grace Slick, all the kind of harder-edged women. For Billy, it was early Bruce Springsteen. And that kinda stuck, because he stayed in the vein of denim and cowboy boots and leather jackets.
I was really blown away by some of the leather work that was done back in the day, and I found some amazing vintage jackets, especially for our guys, that were made by these leather makers that would make stuff for rock stars, like East West Leather or Gandalf. There's a guy who was called Gandalf the Wizard, and he would do these patchwork things. Graham's [Will Harrison] wearing one that's just phenomenal. It's like patchwork leather with hand-painted flowers on it.
ED: What was your process for sourcing costumes like? What role did vintage shopping play?
DW: We had a long time because we had to shut down for COVID. I don't think anybody thought we were gonna be shut down for so long. But I was still buying stuff online all the time. LA has a ton of vintage stores. We also have a ton of rental houses, so I scoured all the rental houses. I would go to the flea markets every single weekend — every Saturday, every Sunday.
I was making stuff. I used contemporary stuff if it was appropriate. Like Free People, they were great to work with. They have a real vibe of that period, so they had some stuff that was great. Same with Levi's. I got a lot of jeans and jackets and stuff from them. There were [vintage] vendors who knew I had been shopping for this show, and they would find stuff and send me pictures. Say they knew I was looking for platform boots, they'd send me pictures of everything, and I would say, "Save it, save it, save it. I'll come get it." So it was a team effort.
For one outfit, somebody even hooked me up with a woman in the backwoods of Louisiana. I drove out into the middle of a storm, and she had this amazing beaded kaftan, and I'm like, "Fantastic!" I found sources from everywhere.
ED: The main action of the show spans nearly a decade, from the late '60s to the late '70s. Did you have a favorite fashion era to work off of?
DW: Because it began in the '60s and kind of morphed, we did a little bit of psychedelic stuff. If you go into The Birds and Jim Morrison in the late '60s, that was a little bit mod. And then you morph into when rock really hit, which was early, mid-'70s.
I really love the glam period. That's why I was trying to put that in with [the character of Karen]. A lot of velvet. There's a guy called Marc Bolan, who was in a band called T. Rex, and he was super glam, and a little bit gender-bending. There were a lot of those gender-bending bands like the New York Dolls, and they were very glam. I love that period. I think it's a little more fabulous than just rock 'n' roll.
And a lot of the big rock 'n' roll guys were kind of boring. Like the Eagles, or whatever. They wore T-shirts and jeans. That's cool, and it's sexy, but it's nice to find those great mod pieces to put in there, as well. All [those guys] had graphic T-shirts, but I could never get any of them cleared, because you have to get artwork on all the vintage T-shirts cleared, and the studio wouldn't clear it. So I didn't have as many graphic T-shirts as I would've loved. I would've loved to have had some concert T-shirts, you know? Even bands wore other bands' T-shirts.
ED: The show cuts back to older versions of the characters being interviewed throughout the series. How did you go about dressing the characters decades later, and clearly splitting those two timelines but still sticking to their personalities and unique styles?
DW: It was interesting trying to figure out who the characters would become. I don't think Billy changes very much. But we put him in something softer, because we'd always seen him a little bit hard and in leather. Karen is wearing a 1990s black leather Gucci blazer. I had seen a great picture of Chrissie Hynde from The Pretenders, another person who I used a lot as a reference for her, and that was the inspiration. I'm like, "This is a great look for an older rock star." And Daisy, we just tried to have her be soft. I wasn't emulating anybody. We were just like, "What can we do so it just makes her look a little softer, and still look like Daisy? But a little bit older."
ED: What are your tips for fans who want to re-create these looks, especially on a budget?
DW: Personally, I go back to sustainable fashions, at any time. Even on contemporary shows, I'm always using vintage pieces. I feel like the stuff that we buy feels disposable, so I try to reuse stuff. I try to recycle stuff. I really try to support that anyway, and I know that there are great online sources now for vintage clothes.
It's hard when you buy stuff online 'cause you can't try it on. But when I was a kid, growing up… I mean, I never bought stuff new. I came from a poor family, so everything was from the Goodwill. I found some really, really great pieces from just looking and coming up with my own style, and I think that that's cool. You find your own individual style. I think any town has a good vintage store, or thrift store, if not vintage. So I'm all for that.
Daisy Jones & the Six is now streaming on Prime Video, with episodes dropping weekly through March 24.