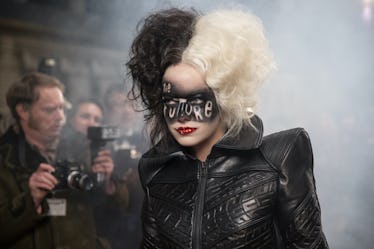 Here's Everything We Know About The Cruella Sequel So Far
Including who's on board to return.
Laurie Sparham/2021 Disney Enterprises Inc
Disney stans are getting even more devilish, punk rock-inspired fun. If you saw Disney's Cruella, you know by now that ending left things open for more. After its May 28 debut, fans were already calling for a sequel. Thankfully, your calls were heard because, after just two weekends in theaters, The Hollywood Reporter learned there's already a sequel in the works. As you're waiting for all the upcoming deets, here's what to know about Cruella 2 so far.
Following Cruella's anticipated release, fans noticed the end of the film left a lot in question. Although the film could remain as a standalone prequel, the way Cruella ends feels intentional. Estella fakes her death and becomes her badass punk rock alter ego Cruella full-time after putting Baroness von Hellman (aka her evil biological mother) in prison for murder. Then, fans see her overtake the Baroness' estate. The story could end there, but fans had so many questions. How did Cruella turn evil; what will happen to the Baroness? What was with that mid-credits scene?
The mid-credits scene is a significant clue the production wanted to leave the story open for a sequel. ICYMI, it's revealed Cruella gifted the Dalmatian pups Pongo and Perdita to Roger and Anita—which begs for more explanation as a tie-in to the original 101 Dalmatians plot. Luckily for fans, answers may come now a Cruella 2 is officially in the works. Here's everything to know about the sequel:
Cruella 2 News
On Friday, June 4, The Hollywood Reporter revealed the studio behind the first Cruella flick is already working on a sequel. Though there is no actual press release confirming the sequel is a go, once Deadline reported Emma Stone is locked in a deal to return for a second film, it was pretty much assured fans would be heading back to Hell Hall.
Cruella 2 Cast
Cruella 2 wouldn't be the same without Stone in the starring role. On Aug. 13, Deadline confirmed that Stone had closed a deal to return to the franchise.
As for the rest of the cast, though, nothing has been confirmed. Cruella's henchmen Jasper (Joel Fry) and Horace (Paul Walter Hauser) will almost certainly reprise their roles since both are from the original 101 Dalmations cartoon and the novel on which it is based. Artie (John McCrea) and Hellman family valet John (Mark Strong) also seem likely to return for the sequel, given how the first movie ended. As for Emma Thompson's Baroness, fans may wish to see her return, but it's not a given.
Thankfully, Thompson said she'd love to do a sequel in an interview with Rotten Tomatoes on May 24 — pitching a Godfather Part II-esque sequel, which would switch between the Baroness' perspective and Cruella's descent into evil. Hopefully, that means fans will get the two actors on screen for a reprise of their roles.
The mid-credits scene with Roger and Anita may also hint that Cruella actors Kayvan Novak (Roger) and Kirby Howell-Baptiste (Anita) will return.
Cruella 2 Plot
There's no news about the plot of Cruella 2, but fans can likely expect it to pick up where Cruella left off. Hopefully, it'll offer more insight into how Cruella became the evil villain fans of the 101 Dalmatians franchise know and love while giving us more of that Dalmatian loathing and fashionista vibes Stone delivered in the first flick.
One thing that is probably certain is that the new film won't be a straight live-action remake of 101 Dalmatians from Cruella's point of view. Chances are the film, should it go that route, would follow in the footsteps of films like Maleficent, where the original story is a jumping-off point for a new take on the material.
Cruella 2 Release Date
With filming not yet underway, nor most of the cast confirmed as of yet, there's no release date for Cruella 2. But that being said, Disney has put out a far-reaching schedule of planned releases that runs through 2023. Though all that is subject to change (and will probably remain in flux due to the ongoing coronavirus pandemic), Cruella 2 may not find a space on the schedule until late 2023 or even 2024.
There's also the question if it will be a Disney+ release or a theatrical release. The original only ended up on Disney+ due to the pandemic, and it remains likely a sequel will be a theater-only premiere when it arrives.
Cruella is currently streaming on Disney+ on Premier Access and will switch to the regular tier at the end of August 2021.
This article was originally published on