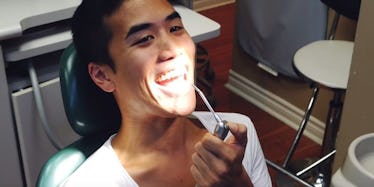 Man Totally Crushes A Cover Of 'Can't Feel My Face' Using Dental Tools (Video)
This cover of The Weeknd is good, but I still hate dentist offices.
While most musicians use instruments and college students use their mouths to impersonate instruments when they sing, YouTube musician Andrew Huang opted for something a little less common and a whole lot more terrifying to children -- and adults, definitely also to adults.
In order to perform this cover of "Can't Feel My Face," Huang just used equipment found in dentist offices.
The results are pretty impressive, but can we please not ruin The Weeknd with tools used by everyone's least favorite form of doctor?
Citations: Minty fresh Cant Feel My Face cover is played on dentist equipment (Mashable)