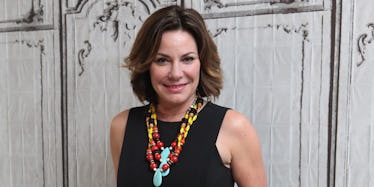 Countess Luann Is Ready To Make New Music: 'Maybe I'll Do A Christmas Album'
Getty
The "Real Housewives" franchise has a long history of spinning off its stars into pop music careers to varying degrees of success, but arguably none have have offered up tracks full of as much carefree silliness but also can't-stop-humming-it catchiness than Countess Luann of "Real Housewives of New York."
And now the Countess is ready to make some more music.
I caught up with Luann de Lesseps as she teamed up with Einstein Bros. Bagels for a new promotion, and she hinted new music is on its way.
I spoke to my producer the other day and Andy's been all 'You should do another song!' So I might do another song. I love the music and I'm always inspired by the show, so you'll probably see more music coming... Maybe I'll do a Christmas album, that would be cool.
As fans of the show know, Luann has released some of the most iconic "Real Housewives" songs to date, including the electro-dance etiquette lesson "Money Can't Buy You Class" and the French-tinged ode to luxury living "Chic, C'est La Vie."
And the other big thing going on in Luann's life is her recent wedding to new husband Tom D'Agostino Jr.
Luann had her wedding planning filmed for "RHONY," and opened up about the stress of putting a wedding together while also filming a reality show, and she explained she wanted to film it all as an inspiration to other women finding love all over again.
Oh my god. Filming and getting married, I had a lot going on this season... I just wanted people to be able to enjoy that moment with me, which was incredible that I get married again and found love a second time around. I think it's inspirational, too. There's life after 50!
The new Einstein Bros. promotion will offer free Boosted Bagels (a new espresso-infused bagel) to nurses on Thursday, May 11 as a part of Nurses Week. Luann said she wanted to help promote the giveaway because of her past work as a nurse.
She recounted washing dishes in a restaurant to make extra money as a teenager and bonding with the elderly patrons who would tell her stories as she waited for her mom to pick her up after a shift as the reason she first decided to go into nursing.
Now, of course, Luann is starring in the currently airing ninth season of "Real Housewives of New York," a mega-hit franchise that doesn't sound close to ending anytime soon, and still singing her heart. Keep your eyes peeled around Christmas time!