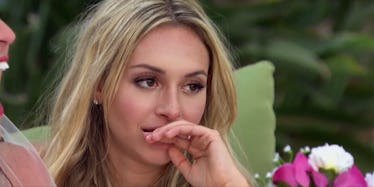 Corinne Confirms If She's Returning To 'Bachelor In Paradise' In New Statement
ABC
The Bachelor In Paradise scandal is officially over.
The allegations surrounding DeMario Jackson and Corinne Olympios have been put to bed, with no charges filed, and the show has officially resumed filming.
Fans have been questioning whether or not Corinne and DeMario will return to production following the media-frenzied investigation.
On Thursday, June 29, Elite Daily was given the following statement from Corinne:
In light of the overwhelming amount of misinformation that has been spread in the media, I want to clarify a few things.  My intent over the past few weeks has been to learn and understand what happened on June 4.  While I never filed complaints or accusations against anyone associated with Bachelor in Paradise,my team and I felt it was very important to be thorough in getting to the bottom of what had occurred. I felt victimized by the fact that others were judging me through conflicting and unsubstantiated reports, while I myself had no recollection of the events that transpired. My team's investigation into this matter has now been completed to my satisfaction.  I am also happy about the changes that have been made to the production of Bachelor In Paradise.  While I am extremely grateful for the opportunity to have been a participant on The Bachelor, and while I was invited to return to Bachelor In Paradisewhen production resumed, I respectfully made the decision not to return. I understand the media's interest in this story, and I greatly appreciate my fans' concerns for my well-being, but I think it is best if I keep any further thoughts private for now.
It was initially reported DeMario was invited to return back to Mexico to film the remainder for the season, but TMZ sources allegedly confirm he will not be going back on the show.
Elite Daily reached out to DeMario's team for comment, but has not heard back by the time of publication.
On June 14, DeMario released the following statement to E! News in regard to the scandal:
It's unfortunate that my character and family name has been assassinated this past week with false claims and malicious allegations. I will be taking swift and appropriate legal action until my name is cleared and, per the advice of legal counsel, will be seeking all available remedies entitled to me under the laws.
Although it seems like neither DeMario nor Corinne will return for filming, ABC announced Bachelor In Paradise Season 4 is definitely back on.
Elite Daily received a statement from an ABC spokesperson that reads:
We appreciate the swift and complete investigation by Warner Bros. into allegations of misconduct on the set of Bachelor in Paradise. Given their results, the series will resume production, and will air this summer on ABC.
Prior to the official announcement from ABC regarding the return to filming, immediately following the allegations, Warner Bros. released the following statement to Elite Daily,
We have become aware of allegations of misconduct on the set of Bachelor in Paradise in Mexico. We have suspended production and we are conducting a thorough investigation of these allegations. Once the investigation is complete, we will take appropriate responsive action.
Bachelor In Paradise Season 4 will certainly go down as the most highly-anticipated season the franchise has ever seen.