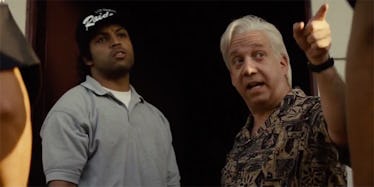 This 'Straight Outta Compton' Parody Perfectly Explains #OscarsSoWhite
Twitter/SuperDeluxe
According to the many people who rate "Straight Outta Compton" as the best movie of this past summer, the N.W.A. biopic should be contending for Best Picture at the Oscars tomorrow night.
For those believe that the Academy Awards has a major and undeniable problem with inclusion, the fact that "Compton" did not receive any nominations besides Best Original Screenplay is one of the more obvious examples fueling the #OscarsSoWhite campaign that has been trending on social media.
This parody perfectly explains the frustration that those using the #OscarsSoWhite hashtag are expressing.
The video, which was created by video channel Super Deluxe, was tweeted with this caption:
Here's the only way Straight Outta Compton would've gotten an #Oscar nomination:https://t.co/j1MdZBaI6b — Super Deluxe (@superdeluxe) February 26, 2016
The video's argument is simple to grasp.
If movies like "Straight Outta Compton" portrayed a white person in a heroic role, instead of portraying defiant black characters as protagonists, then they would get more love at the Academy Awards.
And it wasn't long 'til others began to echo that message.
@Ezby the accuracy!! They love those white savior movies — petty betty (@YoMoee_) February 27, 2016
@Ezby America loves a good White Savior complex. — AJ (@DodaMaat_) February 27, 2016
@Ezby they would give him credit for "Fuck the Police" too — The Youngest Dryas (@FakeStuartB) February 27, 2016
@superdeluxe This is very disturbing because it's so true. — Darrell Edwards (@dedwardsjr73) February 27, 2016
As far as capturing the premise of #OscarsSoWhite, this video takes the cake.
Citations: Super Deluxe