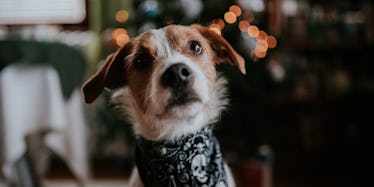 All Your Favorite Comedians Are Doing A Stand-Up Show For Homeless Puppies
Stand-up comics and homeless dogs have way more in common than you might imagine.
First off, they roam to different places, making temporary connections before being shipped off for a gig someplace else.
Second, they're inarguably damaged and desperate for love.
So, it makes sense that for years, people who tell jokes for a living have found themselves irresistibly drawn to performing on behalf of their four-legged counterparts at Funny For Fido: Comics Stand Up For Homeless Animals, produced by comedian and animal activist Justin Silver.
Funny For Fido has included comedy legends Amy Schumer, Colin Quinn, Jim Gaffigan, Judah Friedlander and Patrice O'Neal on its past lineups, and the next show is right around the corner, scheduled for February 22 at The Stand Comedy Club and Restaurant in New York.
If there is one benefit to the chaos this country is currently going through, it's that people are finding themselves more willing to give to charitable organizations.
And most of us can really use a good laugh.
So, if you're looking for a way to give to animal welfare organizations that will heal both your heart and someone else's, this is a solid way to do it.
While there's no guarantee Schumer will be there this time, you can rest assured the lineup will be stacked with comics who are really, really good.
According to the Funny For Fido website,
100 percent of the profits raised at our events and throughout the year are used to pay for veterinary care, food, training, transport, temporary and permanent housing for animals that would otherwise be killed.
Not only do the profits go to the pups, but the pups also get to come to the show for some well-deserved stage time. So, you may even find your canine soulmate.
Here are just a few of the hundreds of pups that Funny For Fido has saved.
Be prepared to happy-cry your eyes out...
Dexter
Dexter was surrendered to the shelter twice by two different families. Funny for Fido took him into our program and today, Dexter lives on a farm in Maryland with two rescued horses, a rescued parrot, one feral cat and his new best friend, another rescued pit named Diesel.
Skelly
Skelly was tied to a chain for two years. He was severely emaciated and heartworm positive when we took him into our program... He wouldn't walk up or down stairs, and for those first few weeks he had to be carried. When Skelly got his paws down the stairs for the first time, his foster mom...officially adopted Skelly and he spends his days in Manhattan or in the suburbs in New Jersey, usually with his beloved soccer ball.
Tappy McDaniels
Tappy McDaniels spent 6 months in a shelter in Newark, NJ without a single application from an adopter. On the day he was scheduled to be euthanized, Funny for Fido pulled him from the shelter. He was heartworm positive, which is expensive to treat, but we provided him with medication and now he lives in Brooklyn.
ARE. YOU. EFFING. KIDDING?
Get some tickets and save some DOG LIVES, PEOPLE.