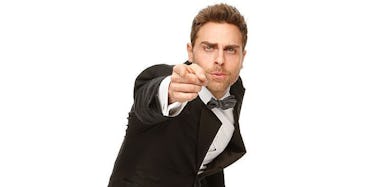 Who Is Colt Prattes? Everything We Know About The 'Dirty Dancing' Star
Getty
ABC has lined up an all-star cast for its remake of Dirty Dancing airing on Wednesday, including Abigail Breslin, Sarah Hyland, and Debra Messing.
But one name viewers might not immediately recognize is Colt Prattes, who will be taking on the iconic role of Johnny Castle that Patrick Swayze first made famous.
Obviously, Dirty Dancing will be a huge break for Colt, who is better known as a dancer than an actor up to this point, but after a little investigating, it seems clear Colt will do Patrick Swayze proud.
Before you tune into the updated Dirty Dancing flick, get to know the new Johnny Castle with all the deets I dug up about Colt Prattes:
1. He's a CrossFit beast.
A professional dancer has got to stay in shape, and one glance at his Instagram proves Colt Prattes most definitely does. Colt posts photos and details about his CrossFit workouts pretty often, and he's so ripped from the workout regimen he's even gotten fitness modeling gigs out of it!
2. He starred in one of P!nk's music videos.
If you do recognize Colt, it's probably from his appearance in P!nk's music video for "Try," in which he shows off his dance moves and hot bod as the singer's passionate love interest. Colt also toured with P!nk as a backup dancer following the video and performed with her on the 2014 MTV VMAs.
3. He's besties with a reality star.
Anyone watching VH1's new reality series Fire Island may recognize one of Colt's best friends, Khasan Brailsford. Probably thanks to their shared background in both dance and fitness modeling, Colt and Khasan are super close friends on Instagram.
4. He's married to another dancer/actor.
Sorry ladies, but Colt is off the market. He married fellow dancer Angelina Mullins at the end of 2013. Angelina is best known as a background dancer for multiple episodes of the NBC musical drama Smash.
5. He knows how to rock.
A couple years back, Colt was a main part of the Las Vegas company of the jukebox musical Rock of Ages, which required him to wear some pretty wild outfits and belt out classic rock anthems like "Wanted Dead or Alive."
6. He's tatted up.
Though you can only see a few small tattoos on Colt's body most of the time, he shared to his Instagram that he had two huge tattoos inked onto his upper thighs about a year and a half ago.
See even more of Colt Prattes when he takes on the role of Johnny Castle in ABC's Dirty Dancing this Wednesday!