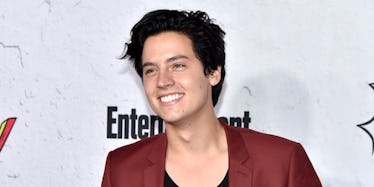 Cole Sprouse's Instagram Captions Prove He Really Is As Funny As We Think He Is
Getty
It's time we all got woke to the fact Cole Sprouse is the best celebrity on social media right now. For millennials, Sprouse and his twin brother Dylan have been mainstays in our lives since childhood. They were baby Ben on Friends; they were Adam Sandler's kid in Big Daddy;, and of course, they dominated Disney Channel for years as Zack and Cody from The Suite Life of Zack and Cody. And now, Cole Sprouse's Instagram is proof he's still just as iconic to the millennial audience.
Though Cole is getting a ton of attention right now for his lead role as Jughead Jones in Riverdale, he's not letting all the photo shoots go to his head. In fact, Sprouse loves to poke fun at himself and make silly jokes in the captions of all the sultry, professional pics of himself he posts to his Instagram. In an ab-revealing magazine shot, he jokes about the pain he was in flexing so hard, and in other pics, he jokes his piercing gaze is actually just him practicing his fragile masculinity. Of course, that's only when he's not busy geocaching his desperation or freeing the third nipple. Check out some of Cole Sprouse's funniest captions from Instagram below.
And of course, as a famous child actor, Cole Sprouse also has a ton of great throwback photos to share as well. Like this adorable diner pic in which Cole refers to his younger self as mayonnaise.
But the fact Cole is so hilarious on Instagram is no surprise to his Twitter followers. Sprouse actually has one of the funniest Twitter accounts of any celebrity, which he will post to more often.
So while we wait for Season 2 of Riverdale to finally come back in a couple months, at least we can kill some time checking Cole Sprouse's social media accounts.