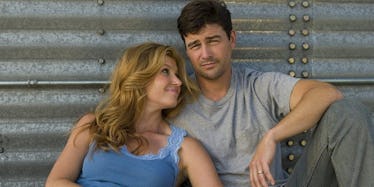 Coach And Tami Taylor Refused Affair On 'Friday Night Lights,' So Love Is Real
NBC
Years after "Friday Night Lights" stopped airing new episodes, Coach and Tami Taylor are still the perfect couple.
As far as made up marriages go, The Taylors are -- and I hate myself for saying this-- relationship goals.
They stuck with each other through every season of "FNL." Sure, things got bad for them at a few points during the show's run, and the couple ended up... *EDITED FOR SPOILER ALERT REASONS* but there was never a doubt the Taylors were going to make it.
Not that the writers didn't potentially try to throw a wrench into their marriage.
During EW's "BINGE" podcast, Connie Britton told hosts she and Kyle Chandler, who played Coach Taylor, made a pact early on to make sure infidelity would never be introduced into their storyline.
She told the hosts,
There was so much passion about these characters that we were playing and this world that we were creating. We felt very strongly about the things that we felt strongly about... We were like, 'We're never letting the writers have us have an affair. If they try to do it, we're not going to do it.' And we told them so.
She continued,
What we thought would be really interesting and what we thought this would be the perfect format for on the show was to actually show what most couples go through, which is just trying to be partners to each other and get through the day. They need each other and they also like really love each other. This is a show about very simple people trying to get through their life in a way that feels valuable and meaningful. So we decided these two people were going to be partners to each other in that.
Major props to Britton and Chandler. Maybe if Matthew Fox had the same cajones those two share we wouldn't have had to deal with the entire last three seasons of "LOST."
Citations: Coach And Tami Taylor Told Writers They Refused To Have An Affair On Friday Night Lights (Barstool Sports)