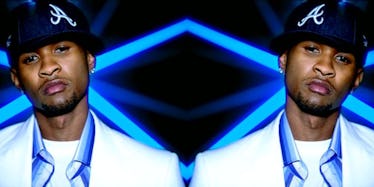 14 Songs That Will Take Millennials Right Back To Middle School
Middle school was an odd, fun, but mostly terrible time in everyone's life.
Your parents bought all of your clothes, there were sex ed classes, and computer labs were a huge deal.
Your future life was all determined by a game of M.A.S.H.
Having a substitute bus driver meant you could be the badass you always wanted to be.
You had to pass that god-awful "mile test" in gym class.
They were good times.
But one of the most nostalgic things from that time of our lives is the music.
Do you remember the music that was big in middle school?
Just think about how awesome the songs were back then.
Yet, I'm sure you now go back and cringe at all of your favorites.
Here are 14 classics from middle school, and if they weren't on that mixtape you made for your girl or guy, then you've got some 'splaining to do.
1. "Get Low"—Lil Jon
"To the windoooooow, to the wall!"
You definitely thought this was the coolest song of all time when you were, like, 12.
It was so badass, so wrong and so right.
Your parents also hated it, which made you love it even more.
2. "A Thousand Miles"—Vanessa Carlton
Girls everywhere screamed "OMG!" and played air piano as soon as they recognized the opening chords.
And of course, there's "White Chicks."
Every time this song comes on, that classic car scene instantly comes to mind.
Damn you, Terry Crews.
3. "Crazy In Love"—Beyoncé
As soon as the horns blared, you were ready to show off your best "uh oh" dance to anyone who would watch.
It was at this very moment Beyoncé became the YAS-inducing legend she is now.
It was also at this very moment Jayoncé was born.
4. "Yeah!" — Usher
Like a boss, you knew every single word.
You also made sure to know every bit of Ludacris' super inappropriate verse (smack noises included).
5.  "Unwritten"—Natasha Bedingfield
No song made you feel more happy than "Unwritten."
It was Katy Perry before Katy Perry was Katy Perry.
You grabbed all your girls, formed a circle and sang out of tune with all your heart.
You loved it.
6. "Candy Shop"— 50 Cent
This, like a few others above, was your introduction into a world there's no coming back from.
Welcome to adolescence.
Ever since, you've never looked at lollipops the same way again.
7.  "Everytime We Touch"— Cascada
No trip to the skating rink was a success unless Cascada's "Everytime We Touch" was played three or four times.
This was our EDM music.
Cascada was our middle school version of Ultra Festival.
8. "Hey Ya!"—OutKast
Every girl wanted to be a Beyoncé or Lucy Liu after this song.
If you weren't big into OutKast, this song was your introduction into the crazy epicness that is this legendary rap group.
9. "Lose Yourself"—Eminem
When this song came on, your moment started, and everyone else faded to black.
You became B-Rabbit.
This was also your go-to pregame and gym song for years. It still might be (and rightfully so).
10. "Hot In Herre"— Nelly
With a little bit of "ah ah," you still know the words.
Admit it.
11. "Hollaback Girl"—Gwen Stefani
To this day, you hear the word banana, and you have to spell it out in Gwen Stefani's voice.
Such a classic song this was.
Oh, and can we talk about how Gwen made all the weird chicks at school want to be Harajuku girls for a year or so?
12. "Grindin'"—Clipse
You weren't cool unless you could recreate this beat on the cafeteria tables during lunch.
All you needed was your hand and a pencil, and you became "the man."
13. "Photograph"—Nickelback
It's okay; you can admit it.
You thought Nickelback was cool at one point, too.
No judgement here (unless you still like Nickelback).
14. "How To Save A Life"—The Fray
Ten years later, and you still don't know where he went wrong.
Such a good, yet sad song.