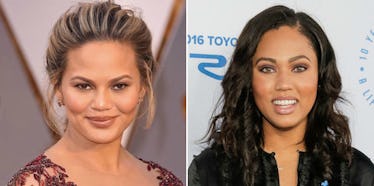 Chrissy Teigen Fangirling Over Ayesha Curry Might Be The Best Thing Ever
REX/Shutterstock
Chrissy Teigen is officially my favorite celebrity ever, and it's 100 percent because she took this creepy video of Ayesha Curry at the Warriors game last night.
After her husband, John Legend, crushed the national anthem at the NBA finals on Thursday night, Chrissy sat back and watched the Warriors kill the Cavs (RIP). But she also had her eyes on something other than the game: NBA legend Stephen Curry's wife, Ayesha.
When Chrissy spotted Ayesha across the stands, she did what any one of us would do: She took a creeper video on Snapchat and tweeted about it.
Chrissy wrote,
Gonna get me an @ayeshacurry
That's a reference to a Twitter trend back in March, which was kind of gross and sexist when random dudes said it but is just plain endearing when Chrissy Teigen does it.
Sorry, dudes. She's Chrissy Teigen. Everything she does is endearing and charming.
I'm not usually one to pitch stuff like this, but I would definitely watch a reality show about Chrissy Teigen and Ayesha Curry -- just two fabulous ladies feeding off of each other, while John and Stephen did whatever their wives ordered them to do.
And I'm not the only one who wants to see a Chrissy and Ayesha project happen.
OK, yes, I would definitely watch a cooking show.
@chrissyteigen @ayeshacurry can you two please do a cooking segment together and be BOSS mothers?! — allie yi (@allieyi) June 3, 2016
A lip sync battle would work, too. Are you reading this, LL Cool J??
@chrissyteigen !!! @ayeshacurry @StephenCurry30 lypsync battle, make it happen!!!! — Nikki Regine (@nikkileGASpi) June 3, 2016
Just saying, Chrissy Teigen and Ayesha Curry together are a lot more interesting than basketball.
Can't even focus on the game when I know @ayeshacurry and @chrissyteigen are in the same building! #mytwofavorites — Alexandria Hagopjan (@alex_hagop) June 3, 2016
MAKE IT HAPPEN, TELEVISION GODS!
Can @chrissyteigen and @ayeshacurry team up and star in the funniest TV show ever? plz? — Lydiá Knowles (@LydKnoll_) May 19, 2016