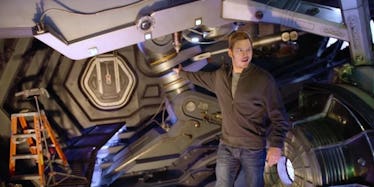 Chris Pratt Giving A Tour Of His Movie Set Might Be The Best Thing Ever
YouTube
If Chris Pratt's gorgeous face ever falls clean off his head and no studio will hire him to star in its films, he can fall back on a promising career as a tour guide.
The masking tape, the AC units, the free eggs, the parking lot where the dogs pee, the bike rack -- this "Guardians of the Galaxy" star doesn't miss one detail while showing fans around the set of the saga's second volume.
Pratt also takes viewers inside the partially-built Milano, his character Peter Quill's customized M-ship.
We love seeing the 36-year-old in movies, sure, but this previously untapped talent of wearing the hell out of a sweater while casually nailing a set tour is a skill worth investigating a whole lot further.