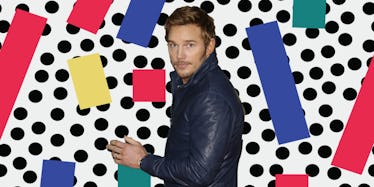 Chris Pratt Pulls The Ultimate Dad Move And His Son Literally Can't Even
REX/Shutterstock
Chris Pratt is good at a lot of things, but making pancakes in the shape of ducks is not one of those things.
It's OK, Chris. You're just a dad being a dad.
But it is a little embarrassing when even your 3-year-old son is calling you out for your shoddy craftsmanship.
In the latest of Chris Pratt's adorable Instagram posts of his son, Jack, Chris presents Jack with a "Donald Duck pancake," and Jack is not impressed.
In the video, Chris says,
Jack, what do you think of your Donald Duck pancake?
To which Jack replies,
It doesn't look like Donald Duck.
OOOOOOH THAT SICK NASTY BURN, THO! CHRIS, YOU NEED SOME ICE FOR THAT?
In the caption, the 37-year-old actor wrote his own definition of "dad," saying,
Chris made a Donald Duck pancake that was basically a perfect photo copy of the picture he saw online and his son Jack refused to see the resemblance, probably out of spite or a deep seeded jealousy of his father's pancake skills, regardless Chris continued to dad.
Honestly, Jack has a point, though. I mean, here is the "duck" in question.
C'mon, Chris. Don't try to play a 3-year-old like that. Kid's too smart for this shiz.
Citations: 'Where's his tail?' Chris Pratt's son Jack isn't impressed by his dad's attempt to make a (Daily Mail)