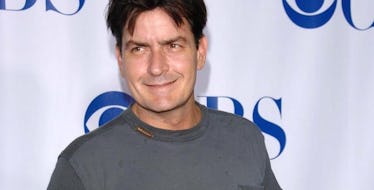 Charlie Sheen Opens Up About Being HIV-Positive In 'Today' Interview (Video)
Shutterstock
In an interview on "Today" early Tuesday morning, Charlie Sheen definitively disclosed he was diagnosed with HIV four years ago.
The actor told host Matt Lauer,
It started with what I thought, based on this series of crushing headaches and insane migraines… I thought I had a brain tumor. I thought it was over.
Sheen claimed he only shared the diagnosis with those close to him who he believed could be trusted, but found himself paying millions of dollars in extortion fees.
He said,
What people forget is that's money they're taking from my children… They think it's just me, but I've got five kids and a granddaughter.
The former "Two and a Half Men" star believes his appearance on "Today" will put a stop to the blackmail and shakedowns.
Sheen shared,
That's not my only goal… but… I release myself from this prison today.
Regarding sexual safety in the wake of his diagnosis, Sheen insisted it is "impossible" he transmitted the virus to any of his partners.
He explained,
The two people that I [had unprotected sex] with were under the care of my doctor and they were completely warned ahead of time.
The actor told Lauer he has disclosed his condition to every sexual partner since his diagnosis, "no exceptions."
Concerning Sheen's infamous "20/20" interview where terms like "tiger blood" and "winning" became part of the everyday vernacular, the actor said while his behavior then was "more of a 'roid rage," it was "on the heels" of his HIV diagnosis.
Sheen told Lauer he no longer feels the shame of the stigma attached to sharing one's HIV-positive status.
He said,
I have a responsibility now to better myself and to help a lot of other people and hopefully with what we're doing today others may come forward and say 'Thanks, Charlie…thanks for kicking the door open.'
Citations: Charlie Sheen reveals he's HIV positive in TODAY Show exclusive (TODAY)