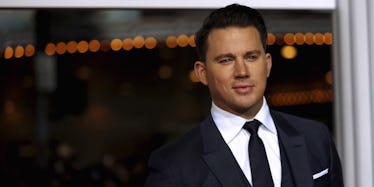 No Joke, Channing Tatum Is Going To Star As A Mermaid In This New Movie
REUTERS
When you think of Channing Tatum starring in a movie, you typically envision the 36-year-old actor gracing the silver screen as Jonah Hill's right-hand man in "21 Jump Street," or a hip-hop dancer with a troubled past in "Step Up."
The last thing you'd ever expect, however, is for Tatum to take on a leading movie role as a literal mermaid (or merman) -- but it just might happen.
It turns out Disney is brainstorming the idea of a "Splash" remake.
Director Ron Howard's hit movie, released back in 1984, is a romantic comedy about a man (Tom Hanks) who falls in love with a woman who lives a secret life as a mermaid -- and now it might be remade starring Channing Tatum as the mermaid (seriously). 
Here's the film's original trailer.
The success of "Splash"  launched the creation of Imagine Entertainment led by Ron Howard and producer Brian Grazer.
According to Variety, if the talks between Imagine Entertainment and Disney lead to the production of the "Splash" remake, Hollywood legends Howard and Grazer plan to return to help produce it, along with Tatum and executive producer Anna Culp.
Can you imagine Channing Tatum as a mermaid? The Internet can!
So, whose idea was it to swap gender roles and make Tatum play the mermaid?
It turns out it was the idea of actress and comedian Jillian Bell. Bell will take on the female role of the drowning young man who gets saved by the mermaid.
This is going to get interesting!
Channing Tatum's most loyal fans took to Twitter to express their feelings on the actor playing a mermaid.
While many are shocked that Tatum would take on such an obscure role...
Others saw it coming all along.
Is this the best news you've heard all year?
Or do you think this is just a big distraction from Donald Trump like this woman?
We'll never know. But what we do know is Channing Tatum starring as a mermaid looks like it's actually going to happen.
What a time to be alive!
Citations: Channing Tatum, Jillian Bell to Star in 'Splash' Remake for Disney (Variety), Channing Tatum is going to play a mermaid in gender swap Splash remake (Metro)