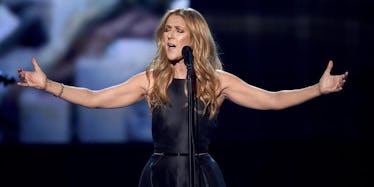 Celine Dion Kills It With This Perfect Cover Of Adele's 'Hello' (Video)
Getty Images
Our hearts will go on (and on, and on) for this amazing cover.
While performing at the Colosseum in Las Vegas on New Year's Eve, Celine Dion surprised fans with an unexpected and incredible cover of Adele's "Hello."
The celebrated songstress introduced the cover cleverly, announcing:
If I may, I would like Adele to be a part of our New Year's Eve. Don't panic, she's not in the building… Do we need to change the battery in my microphone? It kind of lost it a bit. Adele, hello? Hello?
At which point, of course, the crowd caught on and freaked out accordingly.
Check out a (slightly shaky) video of the performance up top.
Citations: Celine Dion Covered Adeles Hello for New Years and It Was Completely Magical (Cosmopolitan)