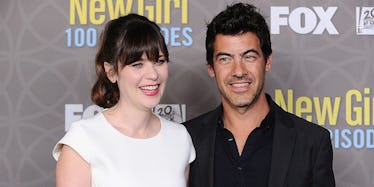 Zooey Deschanel Gave Birth To A Baby Boy And His Name Is One Of 2017's Top Picks
Getty Images
Zooey Deschanel just had her second baby, fam, and the name is really, really cute.
The "New Girl" star welcomed a baby boy last week in LA with husband Jacob Pechenik. The couple already has one child, a daughter named Elsie Otter Pechenik.
Deschanel's rep said in a statement to People that, "Zooey, Jacob and their daughter Elsie are overjoyed to welcome the newest member of their family."
With a middle name like Otter, you know their new baby is bound to have an interesting name as well.
In March of 2016, Deschanel appeared on "The Ellen DeGeneres Show" and talked about being a new mom. Elsie Otter was 7 months old at the time, and Ellen (naturally) had to ask about the weird middle name.
Deschanel said,
We thought Elsie is like, kind of a classic name. A lot of people have grandmas and aunts name Elsie… And then, we were like, you know, the middle name can be a little bit wild.
Ellen responded, "Because you're a celebrity, you're allowed. When you're a celebrity, you can go as wild as you want." Ya, celebrities literally name their kids the weirdest things. (Looking at you, Gwyneth Paltrow and Chris Martin.)
Deschanel explained that she and her husband chose Otter as a middle name because of the animal's particular attributes. "They're cute, and playful, and fun and they're really smart," she said.
Since the couple loves animals so much, and likes the idea of naming kids after animals that have attributes they hope their kids will embody, their son's name makes a lot of sense.
Are you ready for this?!
Zooey Deschanel and Jacon Pechenik have named their son Charlie Wolf Pechenik.
Yup, Charlie Wolf.
According to BabyCenter.com, Charlie is the 80th most popular name for babies in 2017. The name Charlie apparently means "free," so I guess that means Zooey Deschanel's son's name means "free wolf."
Honestly, that's a pretty badass name. Congratulations, Zooey and Jacob, on the new adorable little addition to your wolf pack.
Citations: Zooey Deschanel Welcomes Her Second Child (Elle), Charlie: Boy's name meaning, origin, and popularity (Baby Center)