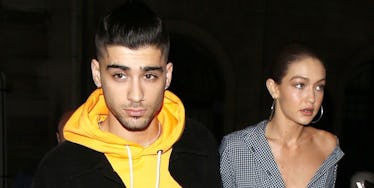 Zayn Malik Got A New Tattoo And Fans Somehow Thought It Was For Gigi Hadid
REX/Shutterstock
What are you trying to tell us, Zayn?Early Sunday morning, singer Zayn Malik appeared to post a photo of his new tattoo on his Instagram page. Fine, right?
Well, the 24-year-old's tattoo contains three letters, "SGT," along with what appears to be the date February 4, 2017.
Take a look...
Zayn Malik didn't caption the photo, but his image has racked up over 800,000 likes in less than 24 hours.
Zayn's fans immediately started speculating about what "SGT" and that date signify, initially concluding the tattoo had to be a tribute to Gigi Hadid.
However, after further review, it appears "SGT" stands for "Still Got Time," Zayn's new smash single with PARTYNEXTDOOR.
I mean this makes sense, doesn't it?
"Still Got Time" is the first release off Zayn Malik's eagerly-awaited second album.
Speaking on his expectations after dropping his chart-topping first album, Mind of Mine, Zayn said,
They always say the second album is difficult, but so far I'm really happy with this one. There are real signs of growth and development. Hopefully, as a human being, I'm growing too, in my knowledge and perception.
Wait, though, because the mystery of Zayn Malik's new "SGT" tattoo is far from over.
See, we can't forget about the numbers "2 4 17" in the tattoo. You might expect those numbers to be the release date of the song "Still Got Time," but the jam was released on March 24, not April 2 (remember, the day comes before the month in Europe).
Naturally, fans took notice of this and are now very confused.
One Twitter user even called Zayn Malik a "headass" because of his confusing new tattoo.
It would seem more than a little odd for Zayn to get a tattoo of the date of the day he got a tattoo, wouldn't it?
This riddle is literally like trying to solve the world's toughest physics problem.
As the Metro's Jessica Walford points out, is it possible the spacing is just off between the 2 and the 4, and the tattoo does in fact reference the release date of "Still Got Time"?
The world may never know.
Citations: Fans are freaking out over Zayn's new tattoo but there seems to be a typo Read more: http://metro.co.uk/2017/04/03/fans-are-freaking-out-over-zayns-new-tattoo-but-there-seems-to-be-a-typo-6549858/#ixzz4dCI0nXcL (Metro)