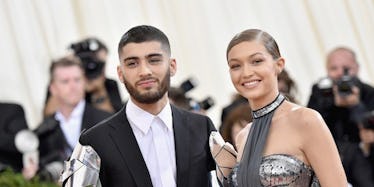 5 Zayn Malik & Gigi Hadid Costumes That Are Couple Goals This Halloween
Mike Coppola/Getty Images for People.com
If you're looking for the perfect Halloween couples costume, look no further than the perfect celebrity couple. These Zayn Malik and Gigi Hadid couple costumes are guaranteed to be a hit at any party. And, bonus, they're easy to pull together if you're a procrastinator like me.
The great thing about Zayn and Hadid is that they have a range of looks, from totally dressed down, to impeccably decked out at fashionable events, to his sexy "Pillowtalk" music video, to their Vogue photoshoot. Well, you get the idea. Basically, you have loads and loads of options and, depending on your budget and time to seek out the pieces for these costumes, you can play it safe and go with one of their more casual looks or take it over-the-top, like Zayn's wacky robot arms at the Met Gala. See? Options.
Whatever look you pick, you absolutely can't go wrong. Honestly, has this couple ever looked bad together? Nope. Just one more reason why they are the perfect couples costume inspo for you and your boo. Check out just some of the Zayn and Hadid options you might want to recreate, with links to pieces and accessories that come pretty close to approximating the original.
1. Everyday Casual
Quilted Joggers, $55, Etsy
Crop Sweater, $35, ASOS
Black T-Shirt, $8, Amazon
Black Jeans, $29, Amazon
With Zayn and Hadid, you have the benefit of some pretty simple looks to pull together for a couples Halloween costume. Case in point, check out Zayn dressed all in black, with a simple t-shirt and jeans. Easy, right? Hadid is a little more stylish in black, with her cropped top showing a splash of color and a bit of quilting going on with the pants. Any of their everyday casual looks should be pretty easy to recreate with pieces you might already own.
2. Met Ball Robo Zayn
Black Suit, $100, Amazon
White Dress Shirt, $20, Amazon
Robot Arms, $35, Amazon
Gray Strapless Dress, $198, Nordstrom
Bling Choker, $21, Amazon
Remember when Zayn and Hadid attended the Met Gala? It was one of the singer's most memorable looks, if only because he looked part robot. Hadid stunned in a dress that featured a metal-esque top and sheer bottom. It's all in the details, here, because Zayn's black suit needs those robo accessories. In a pinch, foil is your friend. In the words of Tim Gunn, "Make it work!"
3. Matchy Matchy Vogue Suits
Brown Jacket, $14, Amazon
Men's Brown Pants, $45, Amazon
Women's Brown Pants, $70, Amazon
White Dress Shirt, $19, Amazon
To fully embrace this Halloween couples costume, you have to go all in on the matching. Otherwise, what's the point? OK, finding the perfect brown corduroy suits may be challenging, but as long as you're sort of in the neighborhood and have the same look, you can totally pull this off. Check out a couple of options above or you might want to raid your nearby thrift shops for this one.
4. Romantic Vogue Pose
Skinny Tie, $15, Amazon
Slim Black Suit, $76, Amazon
White Dress Shirt, $20, Amazon
Plaid Dress, $15 Amazon
Hoop Earrings, $25 Amazon
With the backdrop of Naples, Italy in this Vogue photo, Zayn and Hadid look totally loved up, which is perfect for you and your S.O. Zayn's skinny tie and slim-fitting suit pairs perfectly with Hadid's checkered dress and giant hoop earrings. Swanky.
5. "Pillowtalk" Video
Black Crop Bustier, $21, Amazon
Black Jacket, $14, Amazon
Thinking of going with the steamy, sexy look Hadid and Zayn had going on in his "Pillowtalk" video? Sport a black, wide-strapped bra or bustier for Hadid's look, paired with a black choker and a slicked back ponytail. Zayn's got a simple black jacket, which should be pretty easy to find. Bleach blonde hair is optional, but highly recommended.
Which Zayn and Gigi look is your fave?
Check out the entire Gen Why series and other videos on Facebook and the Bustle app across Apple TV, Roku, and Amazon Fire TV.