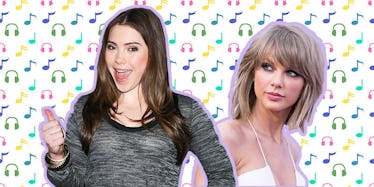 Yep, Olympic Gymnast McKayla Maroney Is Releasing Taylor Swift-Style Pop Music
REX/Shutterstock
Whether McKayla Maroney is better known for her 2012 Olympic silver medal or the "McKayla Maroney Is Not Impressed" meme that followed, her fame as it currently exists is tied up in her legacy as a gymnast.
But that all may change very soon, thanks to Taylor Swift.
While Aly Raisman, Gabby Douglas and Simone Biles bring America to freaking tears in Rio, McKayla is preparing for the September 8 release of her new single "Ghost."
Music is the former Olympian's new passion and T Swift is a major inspiration.
She told Us Weekly,
I like to say my genre is vulnerable pop because it's all melody and lyrically driven and heart driven.
Though the 20-year-old admitted her "favorite thing to sing about is love," she remains single and is dating for the first time in her previously very structured life.
She explained,
We weren't allowed to have a boyfriend… You're so dedicated and committed. I mean, I was in the gym for like eight hours a day and then outside of that I'd be doing school or writing songs in my free time, so there really wasn't time for boys at all.
McKayla's transition from teenage, world-renown gymnast to musician wasn't free from strain. Following the summer games in London four years ago, adjusting to life post-Olympics took time.
She shared,
I lost myself. It was an identity crisis, no doubt… I would go and meet people and they'd tell me, 'You're the gymnast.' And I'm like, now that I'm no longer a competing gymnast, it throws people off and that would throw me off. I don't want to let people down. It was such a big test for me to be like, you know what? No! I'm worth more than a gold medal. I'm worth more than being a gymnast. I am not what I do.
Still, watching her former teammates slay the 2016 games is bittersweet.
McKayla admitted,
I didn't know how I was going to be able to handle [watching the Rio Olympics], because being an athlete and being in that world, it's almost like you're like, 'Oh man, I wish that I would've been able to be there,' but I have a total different outlook on it and I am so excited for these girls… For Aly and Gabby, this is their second time… They pushed themselves to that next level and they deserve to be there more than anybody else… I'm going to be watching them crying because I'm so happy.
Speaking from the perspective of a grown-ass adult who's attended two different TS tours, I'm allowing myself to get properly psyched for McKayla's debut as an artist.
If her songs are even half as great as her vault, that shit gon' slap.
Citations: McKayla Maroney: Quitting Gymnastics 'Was an Identity Crisis' (Us Weekly)