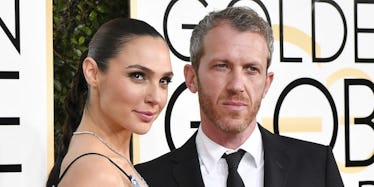 'Wonder Woman' Gave Birth To A Baby Girl And Her Name Is One Of 2017's Top Picks
REX/Shutterstock
Gal Gadot is just gave birth to her second child because there's nothing more "Wonder Woman"-like than raising two young children.
The 31-year-old Israeli star of DC's upcoming "Wonder Woman" film announced on Monday that she and husband Yaron Versano recently welcomed their second daughter.
Gadot broke the news with an adorable photo from the hospital on her Instagram.
Gadot even worked a "Wonder Woman" shoutout into the announcement.
She wrote,
And then we were four... She is here, Maya. I feel so complete blessed and thankful for all the Wonders in my life #family #newborn #grateful
See? Did you catch the capital "W" in Wonder? GET IT?
Anyway. Gadot named her new daughter Maya, which, according to Baby Center is in the top 50 most popular baby names of 2017 already. It's Latin for "great," meaning young Maya here is destined for greatness, probably.
But with Wonder Woman for a mom, how can she not be?
Gadot has been married to Israeli real estate developer Yaron Versano since 2008. Their first daughter, Alma, was born in 2011, and is now 5 years old.
Of course, in just a few months time, both of Gadot's daughters will get to see their mom on the big screen as a literal superhero.
Like, sure, every kid thinks their mom is Wonder Woman. But these kids really do have Wonder Woman as a mom, in every sense.
And we're not talking about just the old school Wonder Woman who fights crime in a skimpy outfit. Gadot's Wonder Woman is a practical (though still very sexy) warrior.
Gadot has previously appeared in films such as "Fast & Furious" and "Date Night." Fans already got a glimpse of her as Wonder Woman in "Batman v Superman: Dawn of Justice," and she will reprise the role again in the upcoming "Justice League" film this November.
"Wonder Woman" hits theaters this summer, June 2.