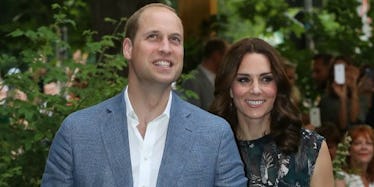 The Official Title Of William & Kate's Baby Will Be Very Similar To George & Charlotte's
Getty Images/Sean Gallup
It's good to be royal. Not that I know from personal experience, but someone once let me cut in line at the grocery store... so that's got to be, like, kind of close. Luckily, I can live vicariously through Prince William and Kate Middleton. Even luckier for me, they're expecting their third child and I'm officially on royal baby watch. If you are confused about royalty and the lineage to the throne, you're not alone. The official title of William and Kate's baby should help shed some light on everything. Get ready for some major knowledge. Also, obsessively watching The Crown helps... a lot.
Let's start at the top. The Queen of England is Queen Elizabeth II. She's 91, and has ruled the United Kingdom for more than 65 years. She's a pretty big deal — a woman and longest-reigning monarch in British history, badass. She is married to Prince Phillip, Duke of Edinburgh who has retired from the public eye at 96.
Next up, we have Prince Charles. At 68, he is the oldest son out of the four children Queen Elizabeth and Prince Phillip have together. Once the queen passes away, Prince Charles will take over the throne. Pretty straightforward so far, right?
Prince Charles had two sons with the now deceased Princess Diana. Prince William is a blonde hunk and the eldest. This means he is next in line for the throne after Queen Elizabeth (his grandmother) and Prince Charles (his father). Prince William is married to Kate Middleton who is extremely chic, smart, and gorgeous. Honestly, when I picture my unobtainable ultimate best self, I envision myself as Kate Middleton. *Cough, cough* OK, moving on to the good stuff — royal babies!
William and Kate's first born is Prince George. He's only four, but third in line for the throne. He will take over after Queen Elizabeth (his great-grandmother), Prince Charles (his grandfather), and Prince William (his father). As for now, we can enjoy his adorableness. He's literally a Prince William mini-me.
Prince George's little sister, Princess Charlotte, is too much for me. She is the cutest and fourth in line for the throne (as of now). She would only succeed the throne if her brother tragically died without having any children.
For those of you wondering: Her gender has nothing to do with her ability to take over the throne. The Succession to the Crown Act 2013 helps to solidify Charlotte and any future females chances at the throne. According to Newsweek, before the act, "a male heir could surpass a female heir in the ascendancy." Way to go, royal fam.
If you're following along, this means that William and Kate's new baby will have the title of Prince or Princess [Name here] of Cambridge and will be fifth in line for the throne. This unborn baby has passed his/her uncle, Prince Harry, in line for the throne. Of course, this newest addition would only ascend the throne if some sort of horrific thing happened that caused both of their siblings to pass away without bearing any children.
Now you see why it's very unlikely this new baby (or Prince Harry, for that matter) will ever take over the throne. Honestly, Prince Harry looks great and has Meghan Markle... I'm sure he's just fine.
Now that you understand what the hell is going on in the royal family, I hope you can enjoy waiting for the next royal baby. Congrats to William and Kate.