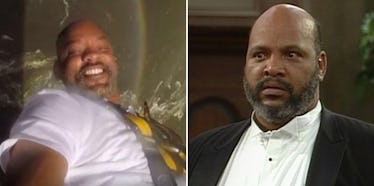 Will Smith's Reaction To Being Compared To Uncle Phil Is Everything
YouTube/NBC
Mr. West Philadelphia born and raised, Will Smith, has evolved so much as an actor since his days on Fresh Prince of Bel Air. In that time, Smith has also begun to quietly transform into his TV uncle, the legendary Uncle Phil.
Fans were quick to notice Smith's similarities to Uncle Phil back in March, when a video of Smith bungee jumping surfaced online and happened to catch the transformation clear as day.
It looks exactly like Uncle Phil.
Fans absolutely lost their minds.
When the video was brought up at a press conference for the new Netflix movie Bright at Comic Con in San Diego, Smith got philosophical on how he connects with fans in the new age of social media. He told press,
It is such a new world ... Seeing that transition — essentially the fans being more and more involved in the creative process, in terms of movie stardom — its a huge difference. It's like you almost can't make new movie stars anymore. Because there's a certain amount of privacy and certain amount of distance that you had from the audience ... so that amount of access created this bigger than life kind of thing. But in the shift into this new world, it's almost like a friendship with the fans.
He says social media has made him felt more connected than ever to those who have followed him since his Fresh Prince days. He continued,
The relationship is less like the time of Madonna, Michael Jackson, and Tom Cruise — these gigantic figures -- because you can't create that anymore. So the shift is to, like, best friends … I love trying to make that shift and make that transition into the new demands of the fans in this business.
The actor who played Uncle Phil, the late James Avery, passed away in 2014 at the age of 68. At the time of his passing, Smith penned a tribute to the actor, saying,
Some of my greatest lessons in Acting, Living and being a respectable human being came through James Avery. Every young man needs an Uncle Phil. Rest in Peace.