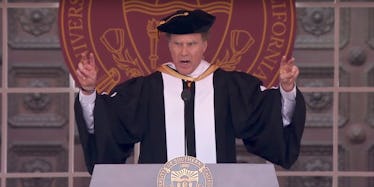 Will Ferrell Hilariously Sings 'I Will Always Love You' To End Commencement Speech
YouTube
I don't remember much about any of the speeches given at my college graduation, likely because I was trying to discreetly take a nap the whole time.
But then again, it could also be that I didn't have the amazing graduation guest students at the University of Southern California had for their commencement address.
Yes, Will Ferrell was asked to address the students of USC's 2017 graduating class at their commencement ceremony on May 12, 2017, and as everyone expected, hilarity ensued. (Are we really surprised? ARE WE??)
At the end of his address, Ferrell told the students, "If you do have a moment where you feel a little down, just think of the support you have from this great Trojan family. And imagine me — literally picture my face — singing this song gently into your ear."
Then, as you would expect (and hope), Will Ferrell did exactly what Will Ferrell would do in a situation like this, and busted out his rendition of Whitney Houston's "I Will Always Love You."
Amending the traditional lyrics just a tiny bit, Ferrell serenaded the audience with the classic melody — trills, riffs and all:
But I know I'll think of you every step of the way. And I will always love you... will always love you... will always love you, class of 2017. And I will always love you.
Also, I'm not sure if I'm alone in this, but after listening to Ferrell's singing voice, I... don't hate it? I don't know, you guys. Don't @ me.
Anyway, the 49-year-old actor, comedian and USC alum didn't only sing Whitney Houston's greatest hits the whole time. The rest of his speech was just as hilarious as you think it'd be.
He didn't hesitate to let everyone know this isn't his first university speech rodeo, saying,
The institutions I have spoke at previously include Bryman School of Nursing, DeVry Technical School, Debby Dootson School of Trucking, University of Phoenix, Hollywood DJ Academy...and Trump University. I'm still waiting to get paid from Trump University. In fact, it turns out I owe Trump University money for the honor to speak at Trump University.
And he also had absolutely no problem calling out the slackers in this graduating class:
All of you excelled in various courses of study. All of you, except for four students, and you know exactly who you are. If you would care to stand and reveal yourselves right now, that would be great.
Ferrell did manage to leave these students with funny, yet inspiring advice as they move on with their lives and enter ~the real world~... whatever that is.
He explained how his days as a newbie on SNL taught him he wouldn't be liked by everyone:
After my first show [on SNL], one review referred to me as 'the most annoying newcomer of the new cast.' Someone showed this to me and I promptly put it on the wall of my office, reminding myself that, to some people, I will be annoying. Some people will not think I'm funny. And that's OK.
He also encouraged the students to "enjoy the process of your search without succumbing to the pressure of results," adding, "Trust your gut. Keep throwing darts at the dartboard. Don't listen to the critics and you will figure it out."
Before the ceremony, Ferrell was awarded an honorary doctorate degree, about which, he said, "I've already instructed my wife and children that, from this point on, they have to address me as Dr. Ferrell."
If you're done crying from Dr. Ferrell's hysterical, yet somehow strangely mesmerizing and emotional singing, catch his full commencement speech here below:
Citations: Will Ferrell Ended A Hilarious Commencement Address By Singing "I Will Always Love You" (BuzzFeed News)