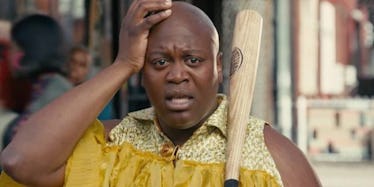 Who Is Tituss Burgess Dating? The Star's Personal Life Is So Secret
Netflix/YouTube
In the year of our Lourde, 2017, there are some celebrities whose faces we see everywhere; we know who they're dating, where they like to eat, and who their friends are. On the other hand, though, there are also those celebrities that we know very little about. You know the ones I'm talking about; they keep a very low profile, avoid the paparazzi, and don't publicize their relationships. Tituss Burgess, star of Netflix's The Unbreakable Kimmy Schmidt, is one of those celebs. Naturally, because we as a people are nosey AF, the question on every fan's mind is: Who is Tituss Burgess dating?
Well, I wish the answer were simple enough for me to exploit right here, but the truth is it's not. For a long time, fans of Kimmy Schmidt wondered about the actor's sexual orientation and romantic life and, given how flamboyant and openly gay his character on the Netflix show is, wondered if his real life persona is anything like his character's. While there are no reports of Tituss being in a relationship, it is known that the 38-year-old actor is, indeed, gay (*GASPS*).
At a screening for the movie The Pass (it's about hot gay soccer players if you were curious, check it out), Burgess told the crowd, "I never had any trouble being myself. Myself was a problem for a lot of people, but I didn't have a problem." He continued the discussion about sexuality and openness later — while at the NewFest LGBT Film Festival in 2016 — by saying,
I want to call attention to how normal our lives are, and to how powerful our messages are, and to have patience with those people who don't understand who we are for whatever reason… I know I am preaching to the choir, but we can't hide. We just can't.
Tituss is a product of the theatre. Indeed, before rising to popularity starring alongside Ellie Kemper on Kimmy Schmidt, Burgess was known primarily for his work on Broadway in plays like The Little Mermaid and Guys and Dolls, as well as for his scene-stealing guest spots on Tina Fey's 30 Rock. The star's professional endeavors deserve much more attention than his personal life, and for obvious reasons.
As captivating as he is as Titus Andromedon, the multitalented actor also has a flair for music; his debut album, Comfortable, was released several years ago and a few songs on the album — namely "It's Over" — do address Tituss's past relationships and his sexuality. The Huffington Post asked Burgess about his album and how important it was for him to address gay themes in his music, to which he replied,
It's important for me to talk about my life as a gay man, not gay themes per se, in my work. I try to write in a perspective that's both a representation of [myself] but also doesn't alienate those from any other walks of life. I only write about it because I have it in me; I don't shy away from it, but I don't write about it necessarily to promote it in any way.
Obviously Tituss's approach to writing music is similar to the way he handles publicity surrounding his relationships and personal life: By not shying away from it, but also not promoting it.
All in all, it seems like Tituss's love life will remain a mystery for now until he decides to open up publicly about it. That's OK, though... I'd much rather pay attention his career endeavors. The star is nominated for a Primetime Emmy in the category for "Outstanding Supporting Actor in a Comedy Series" for his work on The Unbreakable Kimmy Schmidt, so we can expect to see him on the red carpet, and the Netflix series has been renewed for a fourth season, so we can look forward to seeing him in all his Tutus Andromedon glory there, as well.