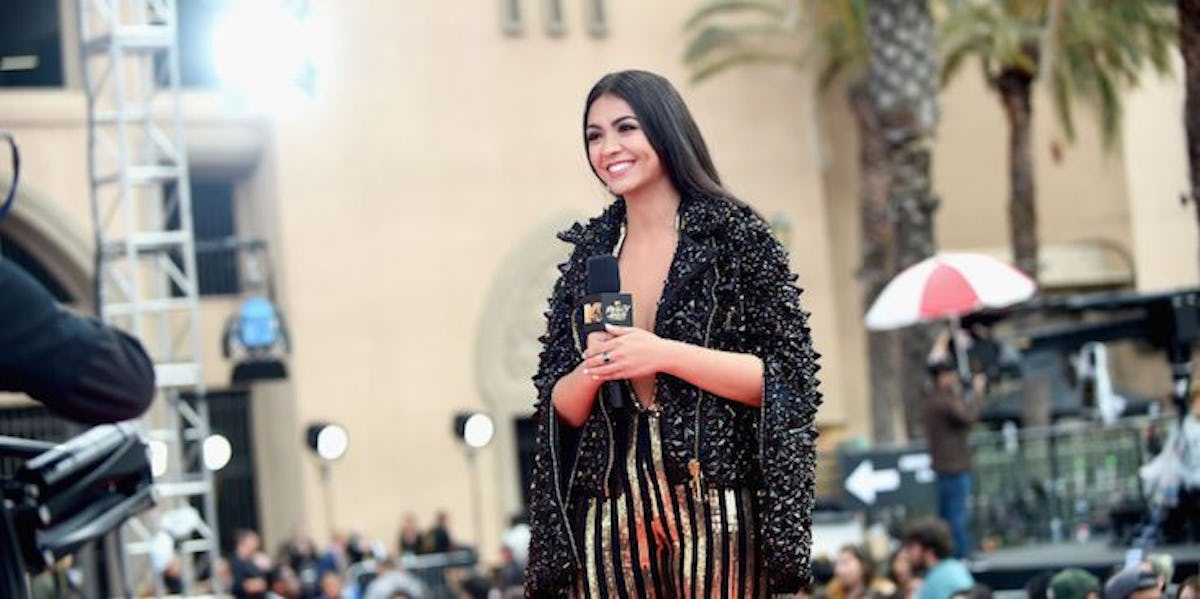 What You Need To Know About Gaby Wilson, The MTV Co-Host Slaying The VMAs
Getty Images
If you haven't heard of Gaby Wilson before this moment, it's OK. I'm bad with names, too. Especially when it comes to all these newer, younger artists popping up at awards shows, I'm starting to feel like a literal grandma. IS THIS WHAT AGING IS LIKE? CAN I OPT OUT? Anyway, before you go asking everyone you know, "Who is Gaby Wilson?" allow me to break it down for you. Gaby Wilson is a correspondent for MTV, and if you're watching the VMAs right now, you're probably watching her slay the VMAs red carpet show tonight in a denim dress that I am hardcore about to buy right now.
If you thought the 2017 VMAs were Gaby's first stab at hosting, think again. She also attended last year's award show as a correspondent for MTV as well, in addition to hosting the MTV Movie and TV Awards pre-show. Aside from hosting huge events like this (and literally slaying the damn thing — I see you, Gaby), she's interviewed countless big-name celebs, and she was previously a style editor for MTV News, according to her website.
Of course, we'd probably all love an inside look in the lives of our favorite celebs, so Gaby's job sounds pretty dope, if you ask me. But her passions aren't solely with hosting the VMAs and interviewing celebs. She also makes a point to be politically aware as well. She was the host for MTV's live coverage of election night on Nov. 8, 2016, and has even interviewed the likes of Chelsea Clinton and Al Gore regarding pressing political issues, like climate change.
In fact, climate change is particularly important to Gaby, so much so that she began a small campaign to educate MTV's viewers on the devastating effects of climate change. The campaign was filled with informative content and interviews with prominent climate change activists.
There's still time to catch some of Gaby Wilson's prime co-hosting and interviewing skills on the VMAs pre-show, before the main event begins at 8 p.m. ET. Here's how to watch the VMAs tonight, so you don't miss a single moment of what I'm sure will be a crazy freaking night.