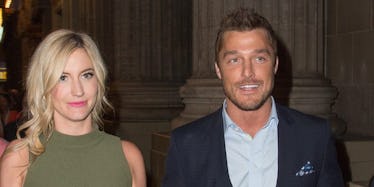 Chris Soules' 'Bachelor' Ex Whitney Responds To His Arrest In Alleged Hit-And-Run
Getty Images
After the shocking news of "Bachelor" star Chris Soules' arrest on Monday night, his ex Whitney Bischoff has something to say.
The fertility nurse, who won Soules' season of "The Bachelor" and was briefly engaged to the farmer in 2015, responded to the news of her famous ex's arrest.
This is a very sad situation. I'm keeping everyone in my thoughts and prayers, especially the victim and his family.
On Monday night, Soules was arrested for allegedly driving his pickup truck into a John Deere tractor and then driving off, according to TMZ. The driver of that tractor later died from the injuries sustained in the crash.
Soules was charged with leaving the scene of the deadly crash.
A rep for Soules gave Elite Daily the following statement, saying,
Chris Soules was involved in an accident Monday evening (April 24) in a rural part of Iowa near his home. He was devastated to learn that Kenneth Mosher, the other person in the accident, passed away. His thoughts and prayers are with Mr. Mosher's family.
Under Iowa law, the maximum sentence for a class D felony — the charge for a driver who does not stop in an accident resulting in a death — is five years in prison and a $7,500 fine, so long as they haven't committed another crime.
TMZ reports that Soules' bail was posted at $10,000. If Soules posts his bond, he will be released from jail, but will have to wear an ankle bracelet monitor, according to ET.com.
Despite her public response, it seems like Bischoff hasn't interacted much with Soules since their breakup two years ago. Last year, Bischoff announced her engagement to sales manager Ricky Angel, and Soules admitted in an interview with ET.com on Facebook live last month that he only has "very minimal contact" with his ex.
Bischoff is currently in the final stages of planning her wedding to Angel, which will take place in October.
Citations: Chris Soules' Ex-Fiancée Whitney Bischoff Reacts to His 'Very Sad' Arrest (PEOPLE)