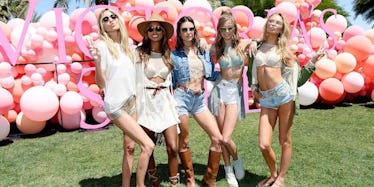 Victoria's Secret Angels Reveal The 5 Essentials You Need To Pack For Coachella
Victoria's Secret
The Victoria's Secret Angels are the epitome of style.
Whether they're jetting off to Paris for the Victoria's Secret Fashion Show, getting glam on the beach or casually hanging out with friends, these girls always look chic.
So it's no surprise, then, when the Angels arrived at Coachella (low-key flying in on a helicopter), they looked as gorgeous as ever in their festival best.
Before the festival really got going, Alessandra Ambrosio, Romee Strijd, Jasmine Tookes, Josephine Skriver and Martha Hunt stopped by the Angel Oasis in Indio, California, for a little lunch -- and a little birthday celebration.
Elite Daily got the chance to talk to the girls about the festival, what they were looking forward to most (Radiohead, Lady Gaga and DJ Snake were popular picks) and, of course, what essentials everyone should pack!
So if you're headed to the festival, or you just want to know what an Angel takes to the desert, here's the short list.
A hat.
Alessandra Ambrosio said her one essential item is a hat from her collection, alé by Alessandra, to protect you from the scorching sun.
Practical? Check. Stylish? Check.
Flat shoes.
Jasmine Tookes wants your feet to stay comfortable so you can dance the night away. She recommended flat shoes because there is A LOT of walking around.
Sunnies.
Josephine Skriver also mentioned flat shoes, but first she said to make sure you pack your sunnies:
I feel like sunnies and flat shoes are just essentials to survive Coachella.
Rollerballs.
You definitely want to look stylish and be comfortable, but don't forget about smelling good among the sweaty crowds of people. Romee Strijd said,
What I like to bring is a little rollerball mist. Because it's so hot you dance all the time, you get sweaty… We have this Bombshell summer fragrance now and they have little rollerballs... you can put in your bag -- your tiny bag -- and refresh yourself.
Bralette.
Accessories are a must at Coachella, but let's not completely forget about the fashion staples. Martha Hunt suggested the Long Line Bralette:
I think it works under ripped t-shirts, mesh t-shirts. For me, I'm going with the more rock n' roll vibe so it's like the perfect bra that goes with any outfit.
OK, so you may not be able to take a helicopter to your private oasis before heading to Coachella, but you can totally take these practical packing tips from the Angels.