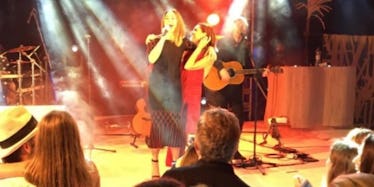 Victoria Beckham And Mel C Ringing In NYE With '2 Become 1' Is Everything
Instagram
How did you celebrate New Year's Eve on Saturday?
If you're anything like me, you got wasted with friends and/or family and said goodbye to one of the worst years in quite a while.
If you're Victoria Beckham and Mel C, though, you said hello to 2017 by performing the 1996 Spice Girls hit "2 Become 1."
Yes, Victoria Beckham, aka Posh Spice, and Mel C, aka Sporty Spice, took us all on a wild ride back in time to recreate one of the best musical scenes known to man.
Need a refresher? Here's the music video for the '96 jam "2 Become 1."
Yup! Now you remember, right?
Now, here's the video of Melanie Chisholm and Victoria Beckham performing "2 Become 1" at Victoria and David Beckham's New Year's Eve shindig in the Maldives.
Sing it, ladies!
The video was uploaded to Instagram by djmikeypop. Pop wrote the following caption to accompany the video:
A mini #SpiceGirls reunion on New Year's Eve in the Maldives where Melanie C and Victoria Beckham are singing #2Become1 together!!
Honestly, I can't think of a better way to ring in 2017.
According to reports, Melanie Chisholm was actually hired as entertainment for the Beckhams' New Year's Eve party, which is a little, uh, awkward, but that does little to take away from Mel C and Victoria's "2 Become 1" performance.
Mel C posted her own photo of the pair on Instagram, and the former Spice Girls couldn't look more in their element.
To caption the above photo, Mel C wrote,
Candle light and soul forever... A wonderful start to 2017 xxx
Couldn't agree more, Mel!
I think it's safe to assume this performance from Victoria Beckham and Mel C will only fuel the speculation surrounding a complete Spice Girls reunion.
You couldn't ask for a better start to the year, and if a Spice Girls reunion is in the cards, well, that will go a long way to making 2017 way better than 2016.
Citations: Mel C and Victoria Beckham Singing "2 Become 1" on NYE Is the Perfect Start to 2017 (ELLE)