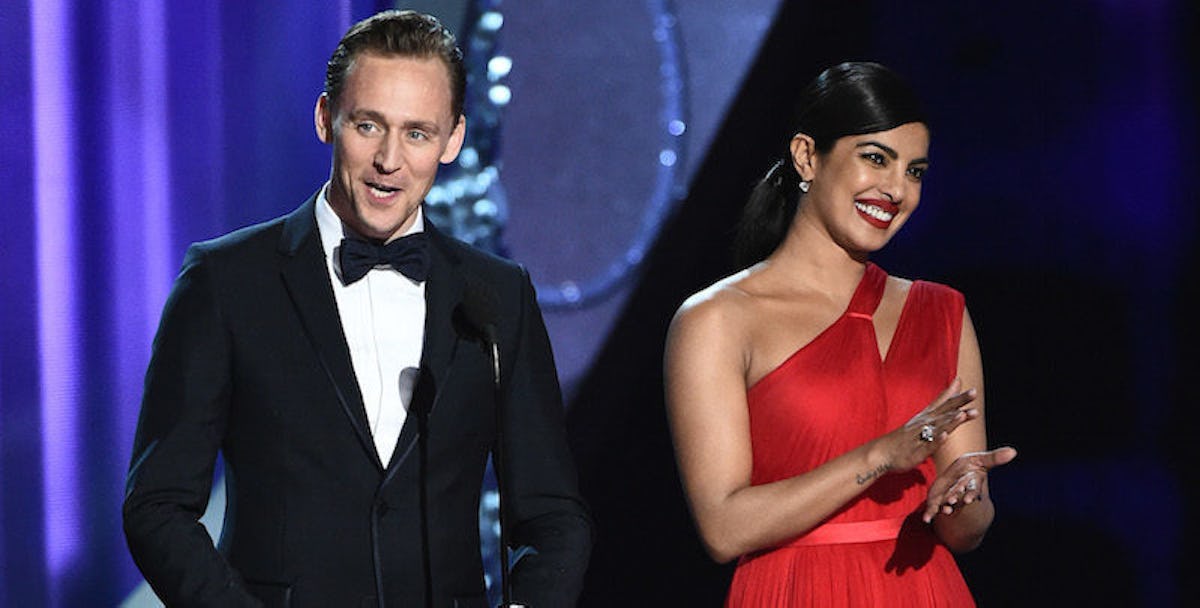 Tom Hiddleston And Priyanka Chopra Showed Major PDA At The Emmys After-Party
REX/Shutterstock
Hey, Taylor Swift? Do me a favor and close your eyes.
Just trust me, you're not gonna want to read this.
Sunday night at the Emmys, Tom Hiddleston presented an award with the beautiful Priyanka Chopra and Twitter immediately exploded.
No one could get over how perfect the two looked together as they danced their way to the microphone.
I mean, JUST LOOK AT HOW CUTE THEY ARE. It doesn't take an expert to pick up on their chemistry.
The story doesn't end here, folks.
According to E! News, Tom and Priyanka flirted it up at the after-party.
The celebrities made their way to Governor's Ball to continue the evening and it sounds like the cuties had a great time.
Several eyewitnesses told E! News the two were "openly flirting with each other" while they were taking selfies and talking.
HELLLLL YEAH. DO WORK, TOMMY BOY.
One source even said,
Tom had his arm around her and held her close. Afterwards, Tom and Priyanka talked closely and were holding hands at one point for a few moments. Priyanka fixed Tom's bow-tie and then the two kissed on both cheeks.
I am going to throw up, that is so beautiful.
Tom and Priyanka make a hella sexy couple, so I seriously hope they hit it off.
As for Taylor Swift? Uhh, she had a rough night. The singer didn't even attend the Emmy Awards, but everyone made fun of her anyway. 
Hang in there, Tay. I'm here for you.