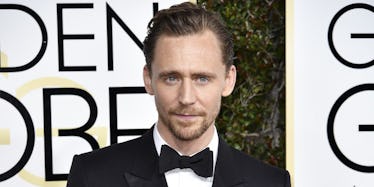 Tom Hiddleston Confirms His Globes Speech Was As Cringeworthy As You Thought
REX/Shutterstock
Anyone surprised Tom Hiddleston acted like kind of a tool at the Golden Globes must have spent last summer in a coma.
The "Night Manager" actor, who spent three months mid-2016 in a highly publicized relationship with Taylor Swift, made comments during his acceptance speech for Best Actor in a Limited Series or Motion Picture for TV that didn't sit well with viewers and attendees.
Following the backlash, Tom took to Facebook to apologize for his "inelegantly expressed" address.
The 35-year-old wrote,
In truth, I was very nervous, and my words just came out wrong. Sincerely, my only intention was to salute the incredible bravery and courage of the men and women who work so tirelessly for UNICEF UK, Doctors Without Borders/ Médecins Sans Frontières (MSF), and World Food Programme, and the children of South Sudan, who continue to find hope and joy in the most difficult conditions.
During the speech in question, Hiddleston shared a story about a trip he took to South Sudan that made him seem condescending and super douchey.
He told an audience of his peers and viewers at home,
One night we were having a bite to eat at the canteen, where we were staying, and a group of young men and women tottered over to the table, and we were all having what they call a 'dirty beer' in humanitarian language… They were a group of Médecins Sans Frontières doctors and nurses. And they wanted to say hello because during the shelling the previous month, they had binge-watched 'The Night Manager.'
Critics online didn't need to look any further than screen grabs of the audience's reaction when expressing their disappointment with the actor's words.
Tom biffed it during his speech, but he also acknowledged his slip-up and apologized so, you know, that's something.
Now, everyone can chill. Namely Tom. Chill, Tom. You won't get a Golden Globe for it, but you might get Christian Slater back on your side.
Citations: Tom Hiddleston Apologizes for His 'Inelegantly Expressed' Golden Globes 2017 Speech (Us Weekly)