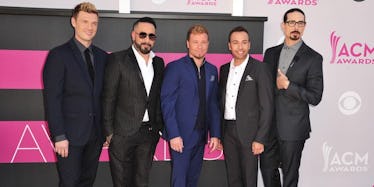 Tim McGraw Was All Of Us Fangirling Over The Backstreet Boys At The ACM Awards
REX/Shutterstock
Tim McGraw is just as pumped as you are that Backstreet's back (ALL RIGHT).
Last night was the ACM Awards, aka the Grammys for people who attend county fairs and get married at "Waffle House." That was mean, I actually do like country music awards and the industry has clearly done a pretty good job at widening its reach to newer demographics.
For instance, last night Backstreet Boys performed during the show, and it was absolutely insane.
I KNOW! The idea of "Backstreet Boys" dropping a country album is helping me make it through this day. I have never wanted anything more in my entire life.
If there is one person more jazzed about this BBoys-Country Music mashup it's Tim McGraw.
Look at the face of this guy when the boys hit the stage.
"FAITH! FAITH! FAITH! LOOOOOOooooOOOooOOoOOOooooK!"
It was a fairly big night for Tim and Mrs. Tim, country music LEGEND Faith Hill.
This award show marked the first time the couple did a live performance of their new song "Speak to a Girl."
The single comes off the couple's yet-to-be-named first full joint album.
Hill recently spoke about the song and its meaning with iHeartRadio, saying,
When you have three daughters and you are lucky enough to come across a song that says, 'Speak to a girl,' kind of resonates with us pretty quickly. I think it's important, particularly this day and time that we live in, words matter, you know? It's important how we speak to one another. It's particularly important how a female, how a girl, learns to be spoken to and how she speaks to others.
McGraw added,
Especially how they expect to be spoken to as they grow older and grow up. What they should expect and it comes from the environment that they live in and how they're spoken to as they're growing up.
That's cool and whatever... but I'm now reallllly gunning for a Faith Hill-Tim McGraw-Backstreet Boys trio album.
Citations: Tim McGraw Absolutely Lost It During The Backstreet Boys Performance At The ACM Awards (BuzzFeed)